Festive Breakfasts and Brunches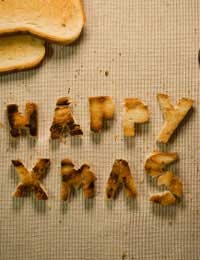 What's the rush? Whether or not you have family and friends to stay during the Christmas break, breakfast or brunch can be an occasion too. When no-one has to be anywhere in a hurry, relax and do something different; start with a well-earned lie-in! The following breakfast and brunch suggestions are enough to encourage reluctant breakfast eaters and keep your hungry hoard happy for a few hours (sleepy teenagers included). So you can enjoy your favourite programme, winter walk or spend a little extra 'me time' with your presents.
Serve the food with fresh fruit or vegetable juices, tea or coffee and a bowl of fresh fruit. Or a 'hair of the dog' in some cases!
Ham and Sweetcorn Scramble
This is a great way of using up some leftover ham and makes a substantial breakfast/brunch. Just double the quantities for big-eaters or if it's to serve more than four people.
6 eggs
120ml single cream
150g diced cooked ham
157 gram (drained weight) can of sweetcorn
15g butter
Serve with 4 portions of hot toast/muffins/wraps or preferred speciality bread
A pinch of ground nutmeg
Salt and pepper to season
Method
Beat the eggs and cream together. Pour the mixture into a frying pan over moderate to low heat. Add all the other ingredients and gently scramble until it looks set. Serve straight from the pan with toasted breads of your choice. Variation - grate some cheddar cheese over the mixture just as it sets and brown under a hot grill.
Kedgeree
This is a traditional favourite and when you've made it at home, you'll see why. Of all the different dishes on offer at Christmas - this is the one my visiting family always ask for!
450g of either salmon or smoked haddock
175g cooked long grain rice
2 hard-boiled eggs
1 uncooked egg, beaten
90 ml milk
25g butter
Black or cayenne pepper to season
Chopped parsley to garnish.
As this dish originated in India (kitchri) it also included curry flavouring - add a teaspoon of curry paste or powder if you fancy. These ingredients can be prepared in advance and refrigerated until you're ready to put it all together.
Method
Poach the fish in milk-gently for about 5 minutes. Drain into a bowl and keep the milk but remove the skin and any bones from the fish and flake with a fork to give decent sized chunks of fish. Roughly chop the cooked eggs. Melt the butter in a saucepan and add the flaked fish, then the cooked eggs, mix well.
Stir in the cooked rice and top up with some of the fish-flavoured milk to keep it moist but not too wet. Season the mixture with pepper, curry paste or powder (if used) but no salt. When all the ingredients are thoroughly heated, add the beaten egg and cook a little longer-until the raw egg is scrambled.
Transfer to a warmed serving dish and sprinkle with chopped parsley. Serve with hot buttered toast or fresh bread of your choice.
Colcannon (Bubble and Squeak)
Irish in origin, this is a great way of using up left-over potatoes and greens. If you have ham or other cooked meat to use up, serve the colcannon with a cold meat platter. The bacon can be omitted.
Ingredients for 4
450g mashed potatoes
225g cooked cabbage, chopped
1 onion, peeled and finely chopped
4 rashers bacon, diced
30g dripping or cooking fat
1 fried egg per person (optional)
Salt and pepper to season.
Method
Fry the onion and bacon together in the dripping until the onion is soft. Remove these two ingredients from the pan and drain on absorbent kitchen paper, then place in a mixing bowl. Remove pan from the heat and put it to one side while you prepare the rest of the ingredients.
Add the mashed potato and chopped cabbage to the bowl, season as desired and stir the mixture well. With a little flour on your hands, shape the mixture into flat cakes-about 1.5cm thick. Reheat the fat in the pan and fry the cakes until they are golden brown or crispy on the outside, however you like them!
Top each cake with a fried egg and serve.
You might also like...