Vegetarian Christmas Meals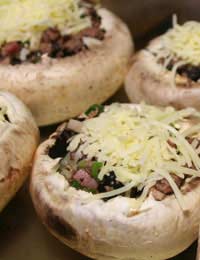 Whether you're vegetarian or not, these sumptuous vegetarian Christmas meals will impress those guests or family members who are. These meat-free dishes are so attractive they may even encourage the committed carnivores in your midst to try something a little different!
Stuffed Mushrooms
Preheat the oven to 200C.Main Course for 4 (or starter for 8)
8 large, flat field mushrooms (10-12cm in diameter)
50g unsalted butter
1 onion, peeled and finely chopped
125g breadcrumbs
125g grated cheese
4tbsp chopped chives
125ml dry cider
One handful of fresh sage leaves, finely chopped.
Method
Wipe the mushrooms or peel if preferred. Remove the stalks, make sure they are clean then chop them. Melt the butter in a frying pan over low heat.
Use about half of the melted butter to brush both sides of the whole mushrooms. Place them in an ovenproof dish.
Gently fry the onion in the remaining butter, then, when the onion has softened, add the mushroom stalks. Remove the pan from the heat and add the breadcrumbs, cheese, cider, chives and sage. Mix well. Spoon this mixture over the whole mushrooms and bake for about 15 minutes.
Squash and Walnut Pie
This dish is a little out of the ordinary. It's a seasonal main course that makes a change from nut roast or vegetable mornay and is worth the extra effort!
Ingredients to serve 6
Preheat the oven to 180C
1.125kg pumpkin, marrow, or butternut squash
125g of your favourite honey
Approximately 20 shelled walnuts
4 eggs, beaten
150ml double cream
I lemon, rind grated
Half an orange, rind grated
Quarter of a nutmeg, grated
2.5ml ground cinnamon
2.5ml ground ginger
225g wholewheat pastry
Method
Remove the rind from your squash. Scoop out seeds and pith from the squash and cut the flesh into 4cm chunks. Steam the chunks of squash for 15 minutes then drain them well. Next, in a large mixing bowl, mash the steamed vegetable until it is pureed (or use a food processor.)
Stir in the honey, spices and citrus rinds. Leave to cool slightly. Line a 20cm, deep, oven dish (or flan ring) with pastry.Pound the walnuts but don't pulverise them! Add the walnuts, eggs and cream to the mixing bowl and stir well to combine all the ingredients.
Transfer the contents of your mixing bowl to the pie dish and bake for about an hour-or until the filling has risen and browned.Serve immediately with your preferred vegetable accompaniments. (Also tastes good cold.)
Vegetarian Side Dishes
Parsnip Cakes
(Carrots or swede can be used instead of parsnips) - these ingredients will serve 4
4 large parsnips
50g dry breadcrumbs
1 egg, beaten
1 tsp plain flour
Approximately 2 tbsp milk
Salt and pepper to season
Peel the parsnips and cook in boiling water until tender, then mash them. Add the flour, egg and seasoning. Shape the mash into flat round cakes (7-8cm). Dip the parsnip cakes in the combined milk and breadcrumbs then fry them until golden brown and crisp on the outside.
Aubergine Mash
1 large aubergine
2 green chillies
1 large onion, peeled and chopped
6 crushed garlic cloves
15g root ginger, grated
100g ghee or butter
Salt and pepper to season
Chopped coriander to garnish
In a small saucepan, cover the whole aubergine with water and boil for about 10 minutes. Leave to cool then remove the skin.Mash the aubergine flesh until pureed and add the ginger, chopped chillies and a little salt.
Heat the ghee (or butter) in a frying pan and cook the onion until soft. Add the garlic. Now add the aubergine and cook it all together for 10-15 minutes. Keep stirring. Serve this simple but delicious accompaniment on a warm dish and garnish with coriander.
You might also like...