Boxing Day Chill Out Food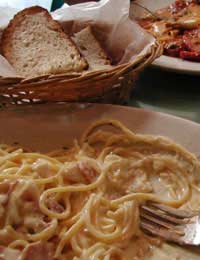 Boxing Day morning usually starts with a feeling of relief; the pressure and build-up to yesterday's celebrations is over. Even if you're still catering for several people, the sense of urgency (and stress) is replaced by a laid-back feel that adds to the day's enjoyment.
For a quick and satisfying main meal, this version of carbonara makes a great Boxing Day dish. If you're entertaining friends, a cold meat buffet can be livened up with simple homemade mayonnaise and a little flair in the presentation.
Turkey and Ham Carbonara
Serves 8 hungry people in no time!
800g dried spaghetti or linguine
3tbsp best olive oil
2 large onions, thinly sliced
3 garlic cloves, finely chopped
300g cooked ham, cut into strips
300g cooked turkey, cut into strips
40g butter
300g mushrooms, wiped and thinly sliced
500ml double cream
2 eggs, beaten
150g grated Parmesan cheese, plus extra to serve with the pasta
Black pepper
Sage sprigs to garnish
Method
Cook the pasta in boiling water according to instructions. Drain and return to the pan to keep it warm with 1 tablespoon of the olive oil. While the pasta is cooking, heat 2 tablespoons of olive oil in a large frying pan and add the onion. Cook over moderate heat until the onion is soft, then, add the garlic, ham and turkey. Transfer the onion and meat to a warm serving dish.
Melt the butter in the same pan and fry the mushrooms for 3-4 minutes. Add the mushrooms to the other ingredients on the heated serving dish. Stir together the cream, beaten eggs and grated Parmesan. Add a few twists of fresh black pepper and a shake of salt. Quickly transfer the pasta into the frying pan with the other ingredients.
Pour the beaten egg and cream mixture over the top and toss the pasta dish with two forks-the food must be hot enough to cook the raw eggs and the ingredients should be mixed evenly.Pile the carbonara onto the hot serving dish and serve immediately with extra grated Parmesan, sprigs of fresh sage, black pepper and a green salad.
Accompaniments to a Cold Meat Buffet
For some, this is the best part of having roast turkey! Keep the buffet simple but attractively presented; it doesn't have to be 'just' cold turkey...
Slice your leftover cold meats and arrange on a meat platter, garnish with red and green salad leaves, edible seasonal berries, diced or cherry tomatoes and sprigs of fresh sage and parsley. Serve with baked potatoes, salads and the leftover stuffing too - it's great cold!
Spiced Mayonnaise
(Use readymade mayo if you really have had enough of food prepping!)
Ingredients for 300ml
500ml best olive oil (room temperature)
2tspn vinegar
2 egg yolks
One eighth teaspoon English mustard
Salt, ground white pepper
1tspn boiling water
Method
Place egg yolks, vinegar, mustard, a little salt and pepper in a mixing bowl and whisk well. Slowly, slowly (this is important to prevent curdling) pour the oil onto the egg mixture and whisk continuously. Whisk in the boiling water-a little at a time until the consistency looks right. Cover and refrigerate.
When you are ready to serve, spoon the mayo into a small bowl and gently whisk in 2tspn cayenne pepper or curry powder, then, transfer the spiced mayo into individual serving bowls for people to try with the cold meats.
Looking for more ideas for Boxing day food? Why not use your turkey
leftovers
?
You might also like...