Christmas Drinks: Egg Nog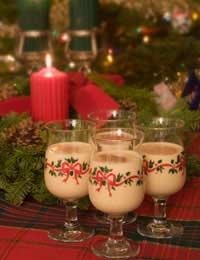 Of course twinkling lights and gift giving are great, but one of the easiest ways to get into the Christmas spirit is still the ingesting of Christmas spirits: mulled wine is a definite seasonal favourite, as is that rich, creamy yellow drink called egg nog. Mmm…
The Origins of Egg Nog
Egg nog has been around for ages: it was most likely invented back in the days when America was still a British colony. The name "egg nog" would in this case stem from "egg grog" – grog was the name the colonists used for rum. Not everyone agrees, though: some historians claim the drink originated in Europe, and was later exported to the future United States. As per this explanation, the term "nog" would derive from "noggin", a wooden cup in which drinks were served. The drink itself would be an evolution of "dry sack posset", a mixture of sherry and milk.
And that's not even the end of it: yet another faction of historians thinks that the truth actually lies in the middle, and that the name stems from a mixture of "egg and grog in a noggin". Somehow we find this the least plausible of all three explanations…
What is certain though is that egg nog is traditionally made with eggs, milk and sugar – and usually a generous dose of some sort of alcohol, most commonly rum, whiskey, brandy or cognac. Egg nog can be "personalized" to suit your own taste by adding spices (nutmeg and cinnamon are the most popular) and by adding cream, to make the drink thicker and richer.
Noggin' around the World
Egg nog has become popular all over the world: the Mexicans, for example, call it "rompope". Rompope is your basic egg nog with plenty of Mexican cinnamon, ground almonds and rum stirred in. It is traditionally drunk cold from little glasses. In Puerto Rico egg nog is made with coconut milk instead of regular cow's milk, which gives it a particularly exotic flavour.
Given the Germans' predilection for beer, it should hardly come as a surprise that egg nog (or "egg soup") is spiked with beer there, rather than with rum or brandy. And Peruvians prefer to liven up their nog (which they call "biblia con pisco") with their national type of pomace brandy.
How to Make Egg Nog
All this talk about egg nog has given us a taste for the stuff – how about you? Fancy a taste? No need to wait till Christmas: here's a recipe, so you can get started straight away! Enjoy…
Egg Nog Ingredients:
6 eggs, 1 cup of sugar
½ teaspoon of vanilla extract
¼ teaspoon of ground nutmeg
¾ cup of brandy
1/3 cup of rum (preferably dark)
2 cups of milk
2 cups of cream
Preparation:
Chill all the liquids. Beat the eggs untill they become frothy. Gradually beat in the sugar, vanilla and nutmeg. Stir in the milk, cream, brandy and rum. Chill before serving.
If you enjoyed this, why not try hot buttered rum this Christmas too?
You might also like...
could you please tell me how long the egg nog will stay drinkable? does it have to be drunk more or less immediately? so much to do for christmas, like to prepare things in advance if possible. thank you
dino
- 24-Nov-11 @ 10:45 PM