Tasty Christmas Eve Suppers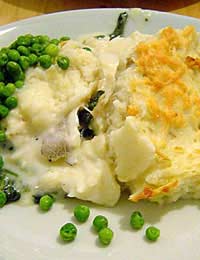 With the anticipation of tomorrow's traditional feast, Christmas Eve supper can be a difficult meal to plan. We feel we should provide a meal that's memorable and adds to the sense of occasion, but don't want to spend the entire holiday in our kitchens!The happy medium is a dish that is uncomplicated and not too time-consuming (and doesn't create tons of clearing up!)
The following suggestions for Christmas Eve supper are impressive, without being over-the-top, and once prepared can be left to cook for hours in a warm oven without us clock-watching...
Boeuf Bourguignon
A casserole by any other name; but this is a luxurious treat of a casserole! It only takes about half an hour to prepare, can be served straight from the pan and will be appreciated by all...even the washing-up team.
Ingredients to serve 6
Preheat oven to 150ºC
1 kilo rump steak or lean stewing beef
175g streaky bacon
1 medium sized onion
About 18 whole baby onions, peeled.
200g mushrooms
100g butter
1 tablespoon olive oil
1 level tablespoon plain flour
2 cloves garlic
Bouquet garni or mixed herbs
1 bottle dry red wine-preferably not fruity!
3 tablespoons brandy
Salt and pepper to season
Freshly chopped parsley to garnish
Method
Cut the beef into 5cm cubes and dice the bacon into small pieces. Grate or finely slice the medium sized onion.
Melt the butter in a large flameproof casserole dish then add the olive oil. (Moderate to high heat.) Brown the cubed beef in the dish. Add the grated/sliced onion and cook for 2-3 minutes, stir to prevent sticking. Add the flour and continue to cook for another couple of minutes.
Warm the brandy then pour over the meat/onion mixture and set it alight. (Optional!) Now add crushed garlic, bouquet garni or mixed herbs, a pinch of sea salt and few twists of black pepper. Pour in enough wine to cover the ingredients, stir well, and bring it to simmering point. Now pop the lid on your dish and it's ready to go in the pre-heated oven.
Leave it to cook for at least two and a half hours.
Next stage is to fry the bacon until it's crispy. Add the whole, baby onions until they look golden then stir both into the casserole dish and top up with more red wine if needed. About 20 minutes before you're ready to serve, add sliced or baby mushrooms to the casserole. Taste the sauce and adjust seasoning if needed-top up with red wine again if more liquid is required. Serve with baked potatoes, plain rice or noodles.
Celebration Fish Pie
This dish makes a colourful contrast to all the traditional food. With so much meat on the menu at this time of year, fish dishes can provide a welcome change!
Ingredients to serve 6
1kg mixed white fish fillets (such as haddock, coley and cod)
115g cooked peeled prawns
3 hard boiled eggs, chopped
2 tbsp chopped fresh parsley and capers combined (or omit capers and add one quarter teaspoon of grated nutmeg and 1 tbsp made up mustard)
75g frozen peas
200g can sweetcorn, drained
750g potatoes, boiled and mashed with butter (parsnips can be used for variation)
1 litre good quality fish stock
75g butter
60g flour
40g cheddar cheese, grated
Salt and pepper to season
Method
Preheat oven to 190ºC. Cut the fish into bite-size pieces then poach it in the stock for about 4 minutes. Mix the fish pieces (no skin or bones) with the sweetcorn, peas and prawns, so that they are evenly distributed, in an ovenproof casserole dish.
Spread the chopped eggs over the top of the fish mixture. Melt the butter in a saucepan and add the flour to make a roux.Pour in the hot fish stock (best done through a sieve) and bring to the boil, stirring often. Simmer for about 4 minutes then add the chopped parsley and capers. Season to taste.
Pour this sauce over the ingredients in your ovenproof casserole dish. Cover evenly with the mashed potato. Sprinkle the grated cheese on top. Bake in the oven for 20-30 minutes.
Serve with green beans or a crisp green salad. Tasty, colourful and all-round winners!
So that's Christmas Eve sorted...why not check out our
Boxing day food tips
so you can plan some food to make the day more relaxing.
You might also like...