Food to Freeze in Advance for Christmas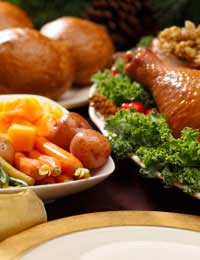 There is no reason to be stressed over Christmas dinner if you take time to plan ahead. No-one wants to be up at 5.30 to boil giblets for gravy when it's far more fun to have leisurely morning opening presents and drinking Champagne!
By using your freezer effectively, not only will you save time and stress on Christmas day, but you'll also be able to spread the cost and effort of preparing Christmas dinner over a longer period of time. Not to mention saving you the struggle of pushing a massive trolley load round the supermarket on Christmas Eve!
For many families, Christmas dinner is so filled with lovely memories of rituals from childhood that we love to enjoy the same treats and dishes every year. There's always someone whose favourite part of the dinner is the bread sauce, or the home-made mince pies, but when you're the one buying, cooking and preparing it all, you want to find ways to save time without anyone missing out.
Here are a few ideas for popular family Christmas foods that can be bought, prepared and frozen ahead of time, ready to be whisked out of the oven when you want them. This way also saves valuable fridge space, too.
Christmas Snacks to Freeze
Any filled pastry items freeze really well, which is great because they're often a bit of a hassle to make. Why not stock up on sausage meat, mincemeat, strong cheese and soft fruits, as well as plenty of pastry ingredients, and spend a weekend pottering round the kitchen making sausage rolls, mince pies and cheese straws? Pop a Christmas CD on and you've got a perfect way to enjoy a drizzly, dark November weekend.
Christmas Dinner Items to Freeze
Although you don't need to go the whole way and freeze plated-up Christmas dinners (but you could!), it makes perfect sense to cook some parts of the meal ahead of time, saving you oven space and last-minute stress.
Roast potatoes and Yorkshire puddings both freeze really well, and can be reheated from frozen. With the potatoes, par-boil and roast as usual (cooking them in duck or goose fat for extra tasty crispiness), but undercook them by about ten minutes. For the Yorkshires, cook as normal but make sure they're totally cold before you freeze them. On Christmas day, simply pop the frozen potatoes into the hot oven when you take the turkey out to rest. They'll take about 30-40 minutes to heat through. Put the Yorkshires in for the last 10 minutes.
Bits & Pieces to Freeze
We all love those little extras that go with Christmas dinner – it's one of the reasons it's more special than a normal roast – but they can be time-consuming to prepare and make a mess of your kitchen, neither of which are welcomed on Christmas day!
Bread sauce, while not being particularly difficult to make, is something that freezes very well. This is a good idea because it needs last minute attention if you make it on the day and takes up a ring on the hob. Just make sure it's totally cold before you freeze it to stop it getting too soggy.
Little home-made chocolate truffles are great to have in the freezer over Christmas. You can have fun with the kids (or grandchildren) one Sunday and make plenty to freeze in little bags (open freeze them on trays then pop into bags in packs of six). If you have unexpected visitors, take a packet or three out of the freezer straight away and by the time you've hung up their coats and made a coffee (or poured the sherry), they'll be perfectly defrosted.
This may sound like a strange idea, but freezing separate portions of fried onions, fried garlic and fried pancetta or smoked bacon is also really handy. You can use them for boosting your gravy, making your spouts more palatable or simply as a vol au vent filling if last minute guests turn up.
Lastly, it's a good idea to freeze a couple of pints of milk and a loaf or two of decent sliced bread. OK, so it's not very glamorous, but you always use more than you think, it saves space in the fridge and it means you don't have to trek out to the shops as soon as they open.
You might also like...
I found your tips very useful, specially re. potatoes. and also some of the veggie recipes. I usually also freeze a chocolate mousse - always useful!
Shirl I.
- 13-Dec-14 @ 1:03 PM