Interesting Christmas Dinner Additions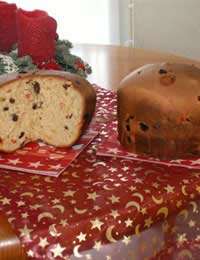 We all love the traditional Christmas dinner with all the trimmings. Even when we think about doing something different one year, we invariably miss the turkey and all those flavours we associate with Christmas.
Instead of getting stressed about trying to do something totally different and perhaps end up disappointing yourself or your guests, why not try one of these new ideas for a Christmas treat with a twist?
Anchovy and Parmesan Twists
These are perfect for something to serve with a drink when people pop in unexpectedly over Christmas or to keep the family going before Christmas dinner is ready. You can make them and freeze, then just reheat when people arrive, or make a batch and keep in an air tight tin – they last a few days and are greatly improved by a few minutes in a hot oven.
Buy frozen puff pastry – don't cut corners on cheap pastry – the ready rolled sort that is for tarts is ideal. Lay the pastry out flat (roll it out thinly if you've bought a block) on a piece of greaseproof paper or baking parchment.
Next, lightly spread anchovy paste all over the pastry and give a really good grinding of black pepper. Grate lots of parmesan all over (use about an inch squared piece). Carefully roll up the pastry like a Swiss roll then flatten the roll slightly. Grate a little more parmesan over and more black pepper, with some chilli flakes if you want to give it a kick. Cut into strips and give each strip a little twist. Bake on a greased baking tray in a hot oven for about 8 minutes. Delicious with a glass of Champagne if you're pushing the boat out although chilled cava or prosecco is nearly as good!
Uses for Panetonne
The delicious Italian sweet bread called Panetonne is a great thing to add to your Christmas trolley, especially now that lots of supermarkets have started selling them over the festive season. You may have seen the pretty red boxes with ribbons on the top and wondered what to do with them…here are some ideas.
It's delicious simply sliced for a festive breakfast, with a deep bowl of coffee or hot chocolate to dip it in. This is a welcome time saver when you've got lots of do and it still feels like a treat.
Try making classic bread and butter pudding but use panetonne instead.
Panetonne is delicious lightly toasted and served with cheddar. You may think this sounds strange until you try it! Particularly good with a glass of port, it's perfect for those evenings in front of Christmas television when you just want a light supper.
Christmas Pudding Ice Cream
Rather than sit looking at left over Christmas pudding for days, why not try something new? Once you've tried this, you may not even want to have hot Christmas pudding after the turkey dinner as it's lighter and the perfect end to the meal. Although you may need a different excuse for getting out of the washing up and going and lying on the sofa watching The Two Ronnies.
Buy some good quality vanilla ice cream and let it soften a bit, or semi-freeze two large tubs of fresh custard. Crumble any leftover cooked Christmas pudding, or the whole pudding if you prefer. Stir the crumbled pudding into the ice cream or semi-frozen custard. Either put it all back into the ice cream tubs or Tupperware, or put into individual moulds or ramekins. Freeze. Take out of the freezer about 15 minutes before you want to eat, or just before you serve the main course.
Unsure how to make Christmas pudding? We have a great recipe here.
You might also like...