How To Make Mulled Wine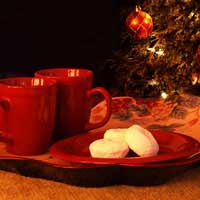 Sure beer is always tasty – especially when you go for one of the many Belgian specialty brands. Wine is great too, and it's actually healthy for your heart (if you don't have too much of it, that is). And there's nothing wrong with a nice whiskey after dinner, or a glass of fragrant cognac. But when the holiday season approaches, there are really only two drinks that matter: egg nog and mulled wine.
You can find an entire article on egg nog on this site. While the tasty yellow beverage is mainly popular in America (both South and North), it is mulled wine that seems to find favour with most Europeans. The reason for that is probably quite simple, though there is no consensus among historians on this point: Europe has a greater wine tradition than the American continent.
The term "mulled wine" is pretty much self-explanatory, too: "mulled" means "heated with spices". And that's exactly what mulled wine is: red wine with lots of spices added, and then heated up. The custom of heating drinks goes back to ancient Greek times when – because of the sanitary circumstances – it was just a lot safer to drink boiled liquids.
My Mulled Wine
There is no one definitive recipe for mulled wine: you can add just about anything you want, depending on the way your taste buds work. We'll give you a few ideas, though:
Mulled wine – the simple approach
1 bottle of red wine - a dry cabernet sauvignon is the most commonly used kind, but you can also go for a merlot or something along those lines
½ pint of water,
4 oz of sugar (brown sugar works best),
1 orange,
1 lemon,
4 cloves,
1 cinnamon stick.
Preparation:
Thinly slice the orange and the lemon. Pour the water into a pan and add the sugar and the spices. Heat until the mixture is boiling and then remove the pan from the hob. Now stir in the lemon slices. Let the brew cool off for about ten minutes. Add the wine, and heat up the mixture. Do not bring to the boil! You will evaporate the alcohol otherwise, which kind of defies the whole point of the undertaking. When your mulled wine is hot enough, take it off the fire again and strain it into a heated bowl.
Serve into mugs (wine glasses are likely to crack – or worse, explode – because of the heat) and add a slice of orange to each portion.
Mulled wine – the slightly more complicated approach
You can add plenty of other ingredients to your very own version of mulled wine:
Instead of sugar you could choose to go with a light corn syrup, for example (one cup will do in that case). And you could add some nutmeg to your mixture, too. Some people choose to not add the spices directly into the wine/water/sugar mix, but prefer to wrap the cinnamon, cloves, nutmeg and lemon and orange in a cheese cloth, and immerse it in the slow cooking brew like a tea bag. This process does take a lot longer though: give it at least two hours for proper infusion. Finally, you can spice up the proceedings a bit more by spiking your mulled wine with a quarter cup of brandy.
if you like mulled wine why not try
hot buttered rum or a spiced christmas orange drink
?
You might also like...