Christmas Fancy Dress Parties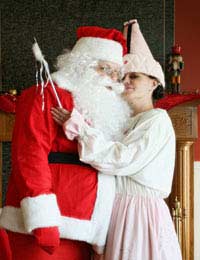 It's not hard to see why the American tradition of Halloween has been spreading all over the world: it's absolutely brilliant to dress up as somebody else, and to enjoy the freedom that comes with not having to act like yourself for once. Which is probably why fancy dress Christmas parties have been gaining in popularity as well. Here are some pointers for great classic Christmas costumes - and how to make them yourself.
Playing Jesus
He is the man the whole holiday revolves around, after all. There are different ways to make yourself look like the son of God, but we recommend a loin cloth combined with a sort of toga (basically you throw a sheet over one shoulder and wrap it around the rest of your body). Don a long-haired wig, a scruffy beard and carry around some bread and fish (or, if you feel like staying closer to the spirit of the season, the Star of Bethlehem on a stick), and you're pretty much there!
The Three Wise Men
This only really works when you're going to the party with two friends, of course. Find yourself three long capes, one turban, one white beard, three pairs of sandals, some (fake) gold, incense and myrrh,-and you're all set to go.
Funny party trick: Make t-shirts with the names of the Three Wise Men (Caspar, Melchior and Balthasar) printed on them, wear them under your costumes and make people guess which one you are. Entertainment guaranteed!
Santa Claus
An all-time favourite, though chances are there will be about twelve other Santa's at the party… That doesn't bother you - or you're determined to have the best Santa costume? Then make your costume yourself! Pick up a red velour tracksuit (a couple of sizes too big, as you'll have to fit a fat fluffy pillow to recreate that wiggling belly) and combine it with a big black belt and a pair of black boots. You can make a beard and wig out of cotton wool that you string together with some nylon thread, or pick them up from a fancy dress shop - they don't cost too much. Finish with the typical Santa hat, and voilà: you're Father Christmas!
Rudolph the Red-nosed Reindeer
When you want it done totally right, this costume requires at least two people and is pretty hard to make yourself - unless you're really good with the old needle and thread. Another option is to put on some brown clothes, make some antlers out of iron wire covered in brown velvet (or another sort of cloth), and of course finish off the look with an old clown's nose.
A Fairy
Fairies are totally cute - and making your costume is pretty easy, too! Pick up some gold netting, bundle it together into a skirt, combine with a t-shirt in the same colour, finish off with a sparkly tiara (or a crown, depending on how princess-like you feel) and a magic wand and you're all set to be the star of the night!
Here are some more ideas if you need kids' fancy dress outfits too.
You might also like...
I have to admit that I've never been to a Christmas fancy dress party where anyone dressed as Jesus. Santa, yes, and Rudolph, but people usually go for the more traditional fancy dress - pirates, wenches, and so on. People tend to avoid the religious aspect of Christmas in fancy dress for fairly obvious reasons, and I think they're quite right to, as it could easily offend some people who just want to go out and have a good time!
Robert
- 23-Jun-12 @ 10:20 AM