Children's Christmas Parties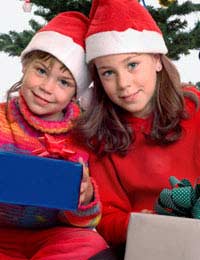 Remember how you used to love the holiday season when you were a kid? How you couldn't wait until the Christmas tree arrived and how you loved to open all those gifts you'd been waiting for such a long time? But you might also remember how you hated having to sit at the kiddie table - the small, low one at the end of the grown ups' table, or worse, in the kitchen. Didn't you wish then that you could have a party with just kids, so you wouldn't feel so awkward? Why not throw your own children one then?
Party Invitations
Make sure to check the guest list with your offspring: it's better to just have five kids over than to pack the room with little ones your own little ones don't like. On the other hand: make sure they get the spirit of the season by encouraging them to invite someone they fell out with over the course of the past year. Let your kids make the invitations: get them some coloured paper, lots of glitter, safe scissors and glue and cheer on their creativity. Have your child personally present them as it's so much more festive.
Decorate The Tree
If you're not all that fussed about how your Christmas tree looks, it can be lots of fun to have your
kids decorate
it with their friends. It's a really nice way to get the party started, and it teaches them the value of sharing. Just don't take down the decorations later to replace them with your own: you are sure to break their little proud hearts.
Kids' Party Food and Drink
No egg nog or mulled wine here: what you can do is bring in some red and green lemonade.
Baking some cookies
shaped like Christmas trees, mistletoe, sleighs and gift boxes is a good idea as well. A great big cake iced with red and green coloured icing sugar or a
christmas yule log
will be great party pieces too.
Presents
Presents are of course an indispensable part of any Christmas party, but make sure that no one goes overboard. A really great idea is to get everybody to bring one or two small gifts wrapped in multiple layers of shiny paper. Get the kids to pass around the presents, only removing one layer of paper each. The one who takes off the final layer of wrapping then gets to keep the present. Make sure everyone gets a present, by having all gifts wrapped in equal amounts of paper and allowing everyone to pass one around.
Games
Kids absolutely adore playing games, and the ultimate Christmas classic is of course
charades
! So prepare some easy-to-guess terms, write them on little pieces of paper and put them in a sock or a hat, explain the rules again to the kids in the simplest possible way, and watch them laughing themselves silly. Christmas is all about those good feelings!
You might also like...