A Christmas Family Party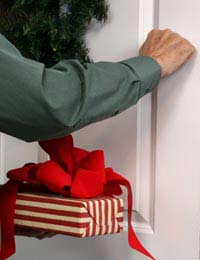 There are two kinds of people: those who absolutely adore Christmas and cannot get enough of it, and those who can't wait for the whole holiday season to be over so they can get back to their everyday lives. No matter which category you fall into, the odds are pretty high you are going to at least have to attend your family's Christmas party. Here are a few survival tricks…
Bring a Big Bag of Presents
No matter what time of the year, everybody loves getting presents - and most people like giving them, too. But it's not easy to make everybody happy, especially when you come from a large family. The best trick to deal with this possibly dangerous situation is to buy
small presents
- lots of them. Most of the fun is in
unwrapping
them anyway, so why wouldn't you get three small fun presents per person, rather than one (potentially wrong) one? Do remember to go out and buy them well in advance: you'll come up with better ideas when you're not yet completely swept up in the whole holiday craze.
Initiate a Sing-Along
Some people hate Christmas carols and the tradition of singing them together with your family, and you might be reading this thinking: "Why would I?" Well, think of it this way: if you start the sing-along, you get to kind of direct it and choose at least the first song that will be sung. And why not all join in for a tender rendition of "Thriller"? And should you love
carols
, you don't need us to tell you this anyway.
Bring a Camera
Cameras are great for both the Christmas lovers and those with fewer Jingle Bells in their hearts. The first category will be absolutely thrilled to record all those heart-warming moments for posterity (Grandma nodding off in her rocking chair with a Santa hat on, the first grandchild's very first Christmas present…), while the second kind of people can use their camera as the perfect thing to hide behind and stay out of the celebrations as much as possible. It's not like you're shooting on expensive film these days anyway…
Wear Christmas Sweaters
A controversial one, this, but guaranteed to make everybody laugh: agree with all those who will be attending the Christmas party to wear seasonally themed sweaters. There's nothing like looking silly together, and you don't have to worry about spilling gravy on your fancy clothes, either.
Suggest Twister
Fed up of playing charades every single year? Then beat everybody to the punch and suggest a friendly game of Twister: pretty soon you'll be rolling over the floor laughing - literally. Just don't play right after dinner…
Check out our feature on games for more christmas game ideas.
You might also like...