How to Have a Great New Year's Eve Party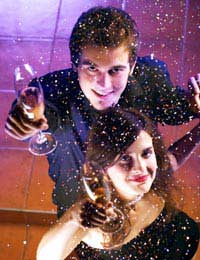 The end of December is just one big celebration: Christmas Eve rolls effortlessly into Christmas Day and then Boxing Day, and a few sleeps later it's already time to break out the Champagne and stylish suits again for New Year's Eve. Here are a few pointers to help you see out the old year in style…
Dress Up
Unless you are part of the international jet set, attend ten weddings a year or are a professional cocktail party circuit dweller, chances are you won't get to break out your fancy clothes all too often. So rise to the occasion, and
put on that dress
that you bought for a very special occasion but never dared to wear yet, or don a dinner jacket and look forward to a night of James Bond-themed compliments.
Drink Champagne
Sure, you could be doing this every day of the year - but do you really? New Year's Eve is a great way to celebrate the successes of the past 12 months - or, if necessary, to drown your accumulated sorrows. And there's no better drink to do so in impeccable style than the old bubbly. Cheers darling!
Eat Oysters
Ok, combining Champagne and oysters might leave you feeling a bit sick, but again: how often do you get to party this way? Alright - crackers and smoked salmon will do as well. But make sure to treat yourself!
Watch the Fireworks
Just ask the Chinese: there's no celebrating the turning of one year into the next without a decent amount of explosives being fired off into the nightly sky. Fireworks are supremely romantic as well as really pretty - and all the joint ooh-ing and aah-ing just adds to the party spirit.
New Year Kiss
This is possibly the most important thing you'll be doing all night long. When you think back to the way you celebrated New Year in say August, you will want to remember how you kissed the love of your life - or at least a beautiful stranger - when the clock struck twelve. Kiss all your friends and family too - just don't get too carried away: there are perfectly good denture cleansing products available these days.
Dance
No matter if you're going to the hottest party in town or are staying in with the people you hold dearest in the whole wide world: no New Year's Eve is complete without at least a little bit of boogie. So move over the table, push aside the chairs, kick off your shoes and strut your stuff like there's no tomorrow - chances are you will only wake up on the 2nd of January anyway.
See how other countries celebrate New |Year around the world.
You might also like...