Table Decoration Ideas for Christmas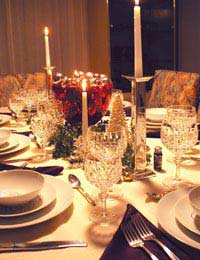 Part of Christmas is making your house look extra-special. Decorating the tree is a lovely way to get the children involved in Christmas, even if it does mean you have baubles that don't match and lots of clashing colours!
As well as a Christmas tree, it's really worth the effort to decorate your dinner table. Not only does it help make the house feel really Christmassy, but it also means you are more prepared for Christmas day and won't have to panic over last minute table-laying tasks!
There are lots of ways to decorate your table at Christmas, but you do need to bear some things in mind to prevent it being dangerous or annoying.
Don't have any decorations that are too big because you can't see over them and it spoils the atmosphere. Of course, you could just have them on the table for decoration and move them when you want to serve dinner.
Secondly, be aware of any fire issues such as having candles in flower arrangements that may drip onto white tablecloths or set paper decorations alight.
Cheap and Stylish
Two words that are music to my ears! A really great way to dress your table at Christmas without spending a fortune is to have a lot of one particular item in a glass bowl. Clear glass works best, although complementing colours can be dramatic. For example, a green glass bowl filled with leaf-on Clementines, or an orange bowl with loads of limes. Pine cones also work well – especially as they're free! Just be aware of picking the cleanest, freshest example of whatever item you've chosen and don't keep the decoration out on the table once the fruit has stopped looking plump and lovely.
Candles
There is something inherently Christmassy about having lit candles around and, as long as you're careful (especially if there are little people around) they make a perfect table decoration.
Rather than spend a fortune on specially decorated Christmas candles - you never want to light them anyway, which rather defeats the object - buy a stack of the plain cream-coloured candles that you see in every supermarket all year round. By putting an odd number together - try using different heights and thicknesses for more impact as long as they're all the same colour - and tying with raffia (careful when you light them), you can tuck in a few sprigs of holly and you have a wonderful, stylish decoration.
Cookie Cutter Placemats
This is a great idea for family friendly and highly practical table decorations. Children love to make them, too!
Go to your local craft shop and buy some squares of coloured felt, as thick as possible (about 5mm is fine). Pick Christmassy colours like cherry red or leaf green. Cut them to placemat size, about 10 inches square or larger if you want one for the centre of the table. Take your Christmas cookie cutters and place one in the corner of the square – use a smallish shape like holly leaves, a bell, candy cane or Christmas tree – and carefully draw round the inside of the cutter with a piece of chalk. Next, carefully cut around the chalk line as neatly as possible or use Stanley knife. If you like, you can do blanket stitches in thin wool round the edges of the mat in a contrasting colour. These look great around the table and protect your table too!
For an extra magical effect that won't intrude on the table, why not get your children to make lots of snowflakes and hang them from the ceiling?
You might also like...