Make Your Own Decorations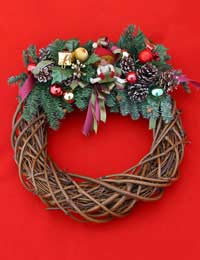 One of the most magical things about Christmas is decorating the house. Transforming your house from an everyday home to an enchanted Christmas winter-wonderland marks the point when Christmas really begins. Everything suddenly looks so much more beautiful and the Christmas lights on the tree add a warm glow to any room. Christmas decorations fill children with glee and their faces light up and the sight of Christmas lights and baubles.
Christmas Decoration Tradition
Christmas decorations have been a tradition for centuries. It is believed the
tradition of decorating fir trees
originated in Germany and was brought to the US in the 1800s. In the UK some say it was non-other than Queen Victoria who made the practice popular, although this has not been proved.
The first electric lights for a Christmas tree were thought to have been designed by the vice president of electrical firm Edison Electric Light Company. Edward Johnson apparently had the lights specially made for his house in December 1882.
Christmas decorations have come on in leaps and bounds over the years. Decorations used to only include flowers and fruit, but nowadays there are tinsels and glitter and baubles galore! Decorations are very much dependant on personal style. Some people go all out with a huge tree and tinsel and wreaths on every surface. Others prefer a more understated look.
Decorating the house as a family is one of the many delights of Christmas so why not double the fun by making the decorations yourself too. It's something the whole family can get involved in and is a fun activity on the cold nights leading up to Christmas. Here are a few ideas.
Colourful Glass Balls
Glass balls are a sophisticated Christmas decoration that you can customise to suit your own taste. Here's how to make them.
You will need:
Plain glass ball ornaments
Glitter paint
Glitter
Spray-on snow/frost
Sequins/stick-on jewels (available at most haberdasheries)
Clear glue
Instructions:
How you decorate the balls is completely down to you. Apply a light coat of the clear glue to the ball and roll in the glitter or paint the balls with the glitter paint and then add sequins and jewels as you please. Or for a winter wonderland style spray the balls with the spray-on frost and lightly sprinkle with a little silver glitter. Depending on your colour scheme, choose glitter paints that will best go with the look you're trying to achieve and have fun!
Customised Vine Wreath
Wreaths have long been a staple of the Christmas decorations, Here's how to customise your own.
You need:
A vine wreath (available at most craft stores)
A glue gun
Spray paint
Any decorations of you choice
Instructions:
The vine wreath is just the base. You can decorate it however you like depending on the look you're trying to achieve. If you want a simple but striking look, spray the wreath with gold spray paint and, once dry, use the glue gun to attach pinecones. For a classic look leave the vine brown and attach plastic holly leaves and berries. You can even add a dusting of snowflakes using spray-on snow. For a more fun look glue on candy canes and sweets - these are great for kids' rooms. Once you've decorated the wreath leave it until the glue has dried completely Finally, using the glue gun again, attach a hanger to the back of the wreath so it can be hung on your wall or door.
Simple Centrepiece
Festive centrepieces look great at Christmas, here's an easy-to-make one that will add a touch of class to your table.
You will need:
Large glass plate
Gold spray paint
Pinecones
Instructions:
This is a really simple decoration to make, but looks very impressive at the centre of your dining table. Simply spray the plate and the pinecones with gold paint and leave to dry. Once completely dry put the pine cones on the plate and voila!
TIP - Always wear goggles and preferably a face mask when using spray paint - and spray in a well-ventilated area.
If you've really enjoyed making your own decorations, take a look at some more decoration themes for Christmas.
You might also like...