Children's Christmas Costumes: Making Your Own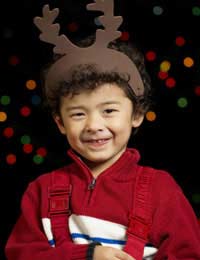 Christmas is one of the most exciting times of the year for most children. They may be involved in school Nativity plays or invited to fancy dress parties, and even if they're not, they'll relish the chance to dress up and feel special. A fun costume can help with imaginative play and keep them busy at a time when you have a lot on your hands.
Shop-bought children's Christmas costumes can be expensive and are often poor quality, plus children who wear them run the risk of bumping into others in the same outfits. A better solution is to make your own costumes at home. It's easier than it looks!
Simple Christmas Costumes
Probably the easiest Christmas costume to make is the snowman suit. Because it's so simple, it's ideal for very young children. You can simply adapt a standard white romper suit design, using stretch velvet to mimic the softness of snow. For an older child, use leggings and a white pullover.
The trick to getting the snowman look is sewing on black buttons down the front of the costume - for safety, you can use felt circles for a baby. A black bowler hat completes the look - simply stitch it onto the hood of the romper suit for those too young to wear it independently. You can make the hat by pasting black felt onto starched liner fabric.
Fold a single strip round for the body of the hat, then cut out two larger circles. Fold back the inner portions of one of these and fix them to the inside of the main strip to make the rim. Then fold the outer portions of the other circle down inside the strip to make the top. A triangle of orange felt can be folded into a cone and attached to elastic to make a carrot nose.
Equally simple are Father Christmas costumes. You can buy offcuts of white fun fur really cheaply and use them to trim red romper suits or red velvet shirts and trousers - even dresses for girls who still want to look feminine. A triangle of red velvet folded into a cone and trimmed with fur, with an elastic headband to keep it in place, makes a simple but effective hat.
You can attach a triangle of fur to elastic to make a beard, or use child-safe pillow-stuffing fibre for a fluffier, more dramatic effect.
Little Angels and Little Elves
Many children love to be angels at Christmas time, andof course there's always a chance they could be chosen to be an angel in their
school nativity play
. It's easy to make simple white smocks for them to wear. A ring of tinsel makes a great halo. The tricky bit is the wings. Gold or silver craft card wings can look good but are easily crushed. Working with feathers is difficult, but you can buy strips of white feather boa cheaply and tack them onto white felt base-shapes to dramatic effect.
Elf costumes look complicated but are really very easy to make. Take an ordinary shirt pattern and make one side of it in red and the other side in green. Again, velvet tends to give the most pleasing effect. Attach a red sleeve to the green side and a green sleeve to the red side. Rather than hemming the bottom of the shirt in a straight line, follow a jagged pattern.
Elf shirts look good worn with similarly coloured leggings or tights. For added effect, take two triangles - again red and green - and stitch them together into a conical hat which can be secured with elastic. You can sew a bell to the top of this, and bells can also look good attached to the points of the shirt hem.
Nativity Costumes
It's really important to children in
Nativity productions
to look their best. Fortunately, most Nativity costumes follow the same basic pattern and are easy to make. Follow the basic pattern for a smock but lengthen it and leave the front open. Attach a basic hood, making sure to leave plenty of loose fabric in the neck area for a floppy effect.
A blue costume of this type can be worn over a white dress for Mary. Brown costumes can be worn by shepherds who should, of course, also have crooks, and toy sheep for them to carry to complete the look. Kings should have velvet costumes in red or gold or purple. Use tinsel and junk jewellery to make them look more regal.
All of these costumes can be made easily at home and children will love helping. It's a great way to share the excitement that comes when Christmas is near.
You might also like...