Christmas Hamper Scheme: Guidelines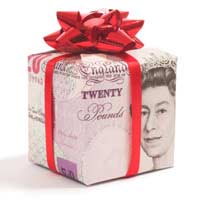 Just imagine it. You have decided to be very clever and think ahead. You thought you didn't want to find yourself with just a few weeks until Christmas having to scrimp and save to buy present and food and decorations. No this year you'll be prepared. So you joined a hamper club and each month sent money away so you could have a great Christmas. And then the unthinkable happens. The hamper club goes bust and all the money is gone. So after saving all year, you're left with nothing at Christmas.
Sounds like the stuff of nightmares doesn't it? Of course this isn't just a dream, for many people a few years ago this became a reality. In 2006 one of the biggest hamper clubs in the UK went bust leaving thousands of savers out of pocket and heading for a pretty bleak Christmas. Needless to say this also signalled the end of the hamper club boom with many consumers sceptical about the safety of their money. However, this doesn't have to be the case.
Although this incident was crushing for so many people it also prompted a new set of guidelines for hamper clubs to be produced.
The New Guidelines
The guidelines suggested the government would protect money paid into hamper schemes. This means should the club go bust the consumers would be at least partially refunded. This gives savers more protection and may entice them back to using hamper clubs again in the future.
However, for the once bitten twice shy savers there are alternatives. The government also announced the Post Office would set up its own Christmas savings club with more protection for consumers. It also began an advertising campaign advising savers on alternative ways to save for Christmas.
Of course the easiest way to do this is to set up a separate savings account at your bank. This way you can deposit as much or as little as you like each month – although it is wise to set yourself a minimum just in case you're tempted to spend more then you should and only deposit a tiny amount! It's difficult saving for Christmas in March for example when it seems so far off but setting yourself a minimum means you'll always keep up with your savings. You could even set up a direct debit from your current account to your savings account each month so you won't even have to go through the effort of depositing it.
This way too you get to access the money should something happen during the year that you had not planned for. You can't always access the money in your hamper club should the unexpected happen!
Hamper schemes are not all dangerous. If you want t join one make sure you read the small print and check out which seems the most well established and safest. If possible use the Post Offices extra secure hamper club. However remember you can always just save up yourself and make your own 'hamper' up at Christmas time.
You might also like...