Planning: Countdown to Christmas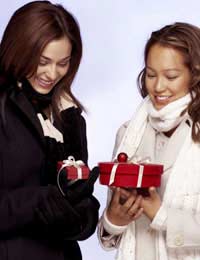 When it comes to planning for Christmas, the list is king!
There is so much that needs to be done to ensure that your Christmas is as stress-free as possible, so it makes sense to organise yourself. That's not to forget the importance of delegation – you do not have to be the person that keeps everyone else happy while forgetting to have a good time yourself. By making good use of lists, you can delegate tasks to various people in the family.
Planning the Presents
Nobody wants to be frantically dashing up and down the high street on Christmas Eve buying last minute presents. Not only is that a horrible way to spend what can be such an exciting part of Christmas, but you'll invariably end up spending too much on presents that people don't really want anyway.
A good habit to get into is buying presents throughout the year. It saves you money as you have time to find something perfect, rather than something quick and expensive, especially as you can make full use of the sales. If you see something that makes you think of a person that you buy a Christmas present for, there's nothing wrong with buying it in June! Keep a cupboard or drawer in your home for presents (and cards and wrapping accessories) and you can have a lovely smug glow whenever you look in it and realise how organised you are.
Making full use of internet shopping also helps that Christmas Eve panic. When you have an evening to yourself, pour a glass of wine and enjoy browsing through the online stores – just leave plenty of time for delivery, especially if you're sending items overseas directly from the store or are having them delivered to your own home.
Planning the Christmas Dinner
Making a delicious Christmas dinner for all the family is relatively stress-free when you plan carefully. Most supermarkets now offer online shopping, which is a great way to beat the horrendous crowds in the few days before the 25th.
Take time to work out your menu in advance (you probably know it off by heart though as families don't like too much change with this meal, usually!!) and write a detailed shopping list of all that you will need. Book yourself a delivery slot in plenty of time, bearing in mind that the morning of the 24th is the most in-demand. It is a good idea to have two online shopping deliveries for your Christmas foods (book both slots in advance!) – one with your fresh items for Christmas day and the holiday and another a little while before with all your non-perishables and any ingredients you need to make food that you're going to freeze, such as sausage rolls, mince pies, sausage meat or roast potatoes etc.
Once you have your food shopping done, you can concentrate on the meal itself. Another list! Work backwards from when you want to serve the meal, taking into consideration requirements from different ages or demands to watch the Doctor Who Christmas special. Allow at least 30 minutes for the turkey to rest, giving you time to use the oven for your potatoes and other roasted vegetables. Factor in time to relax and enjoy a glass of Buck's Fizz, rather than thinking you'll enjoy dashing around non-stop. Think of the tasks your family members can do – little people love to serve canapés and non-cooking guests can light fires or polish glasses.
You might also like...