Why Christmas Lights?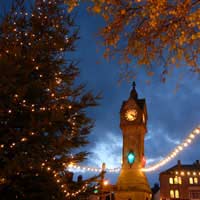 One of the most magical things about Christmas (apart from the really great presents, the fabulous food and the fact that you get to spend quality time with your family and don't have to go to work the next day), is that everywhere you look, there are thousands of little lights twinkling. Come Christmas, people want the world to look better – and it does.
It starts weeks before the actual holiday: stores decorate their windows with them, trees all around towns and cities are wrapped in them, they are strung across streets…
History of Christmas Lights
Christmas lights are – just like Christmas trees – a worldwide phenomenon, one with historical roots, too. As you might have read elsewhere on this site, the German religious leader Martin Luther was the first to decorate a Christmas tree with candles (he saw decorated trees as a celebration of nature), thus initiating the (highly popular) trend for sparkly trees. It would take another few centuries for the custom to become quite a bit safer, though.
Red, White and Blue
The first person to ever decorate a Christmas tree with electrical lights was Edward H. Johnson, who worked with Thomas Edison – the very man who invented the electrical light bulb. Johnson was close to the source then, which is why he could have the lights custom made. He presented his tree to the world (or rather, a few journalists) on the 22nd of December 1882 in his New York home: it had eighty light bulbs in red, white and blue colours.
The new invention took a while to catch on: light bulbs were pretty expensive in the early days, and it wasn't until the 1930's that they became affordable enough for the general public. Things went fast from that point on, though: pretty soon there was an electrically lit tree in front of the White House, in Trafalgar Square, in Rockefeller Plaza… just about anywhere in the world, really.
Light the House
The custom of decorating trees and houses with Christmas lights has now spread to such a scale that there are actually competitions, ranging from the most stylish to the most "impressive". Some people go to extreme lengths, wrapping their houses in millions of multi-coloured lights that can be seen from hundreds of yards away. It should come as no surprise then, that Christmas is the time of the year when the most electricity is used – some households have to bring in generators or extra electrical hook-ups to power their twinkling displays.
Another wonderful modern custom is the lighting up of skyscrapers - and there's a lot of creativity going on in this new tradition. Some buildings are decorated with a sparkling Christmas tree, for example, other ones feature windows that change colour every few seconds, and some (like the Empire State Building) are completely lit up in the traditional Christmas colours: green and red. They spread the Christmas mood all over the cities they are in, and thus make the world more beautiful. And isn't that what Christmas is all about?
You might also like...
hello there, your website is very creative and fun , I found some great things for kids to make but I was wondering if you could send me any more great ideas like how to make a snow globe or draw a reindeer those kind of things that look great and is within the Christmas theme ! thanks and merry Christmasand a happy new year