How to have the Perfect New Year Dinner Party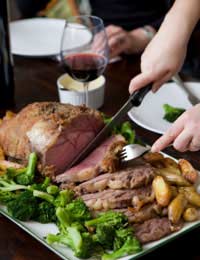 A sophisticated dinner party with close friends is a wonderful way to celebrate New Years Eve. It's simple and classic and with the right touches can result in a perfect evening. Keep it intimate with just the right number of people to keep the conversation flowing and get ready to have a great New Year's dinner party.
Invitations
With dinner parties the guest list is hugely important, more so than with parties. With parties you can invite more people so it's possible to pick a huge variety of people - enough to ensure everyone gets on. With dinner parties the number of guests will be much smaller, so it is important that you get the right people.
Think about personalities – who will get on? Which personalities are most likely to clash? Bear in mind there may be up to 10 people at the dinner party, if two personalities seriously clash it will be obvious to all and will make for a very uncomfortable evening. Instead consider who you think will get on well together and devise the seating plan around this. This way you can be sure that the evening will go well.
Food
When planning a dinner party, food is obviously hugely important. Make sure you know whether any of your guests have special dietary requirements. It is possible you might have a vegetarian among your guests in which case you'll need to decide whether to make the whole meal vegetarian or whether to make a vegetarian alternative for that person.
You also need to make sure your guests do not have allergies to certain foods such as dairy or nuts and if they do make sure you do not use any traces of these food products in your meal.
To make things easiest for yourself cook something that you prepare earlier in the day and won't require too much work at meal time. A great casserole for example is always a good choice. You can prepare it on the morning of the dinner party and let it cook slowly in the oven. This will leave you with plenty of time to get yourself ready and to entertain your guests. It will also mean you won't get flustered trying to cook at the last minute. It's a good idea to serve some canapés, to keep your guests' hunger at bay (and keep them occupied) while you're putting the last minute touches to dinner.
Decorations
With a classic dinner party, the
decorations
should be classic and understated. Go for candles, pretty Christmas flowers and place settings; presentation is just as important as the food. Atmospheric lighting with fairy lights to accompany the candles can add a warm, festive feel.
Dinner parties are a great alternative to ordinary parties when it comes to New Year's Eve. Spending the evening with a group of friends, great food and lovely surroundings is one of the nicest ways to usher in the New Year. Just remember to make sure you get the right mix of guests, simple food that will cause you little fuss and classic decorations and you'll throw an unforgettable dinner party.
Happy entertaining!
You might also like...