A UK-American House Swap For Christmas: A Case Study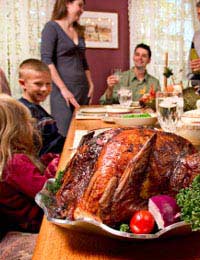 Lisa Waugh and her husband Martin had been married nine years and had two children – seven-year-old Ellie and four-year-old Joe – when they decided to do something a little different at Christmas.
"We'd always had a lovely family Christmas," says Lisa. "We'd spend Christmas Eve at home then alternate Christmas Day lunch and Boxing Day lunch between my parent's house and John's parent's house.
"We always had a great time and we both got on well really well with our in-laws. After Christmas 2007, however, I felt a bit deflated; it seemed each Christmas followed exactly the same pattern. There's all the stress of buying presents and getting everything organised then Christmas Day and Boxing Day go by in a blur.
"Then you're left with a hangover, a credit card bill and a load of holiday weight to lose in January! I decided in January 2008 that Christmas that year was going to be a bit different."
Planning Something Different
Lisa told Martin how she felt and the pair discussed some other option for Christmas that year. "We toyed with the idea of going on holiday for Christmas," says Martin. "But we quite like the idea of being somewhere homely and we did like being around friends and family on Christmas Day."
It was actually Lisa's mum who gave the pair the idea of a house swap for Christmas.
"Mum reminded me we have family in Boston in America," she explains. "Layla was my aunt's daughter. My mum's sister Pat had moved to the States when she was in her early 20s to work as an au pair. She met her husband out there and they had Layla and her brother David.
"When Pat's husband died she moved back to the UK, while Layla and her brother stayed in Boston, where they had a lot of close family on their dad's side. Mum came up with the idea of Martin and I taking the kids to visit Layla and her family."
A Christmas Swap
"When we discussed the idea with Pat she asked what we thought about doing a house swap. Martin and the kids and I would go stay in Layla's house and she would come stay in our house in Surrey with her husband Shaun and their daughter Bridget. That way, we'd get the exciting Christmas we wanted along with the chance to meet extended family and Layla would get to see her mum."
So on December 23rd Lisa and her family flew out to Boston, where Layla's brother David was waiting to meet them and take them to their home for their next few days while Layla, Shaun and Bridget flew to the UK.
"It was amazing," says Layla. "The house was beautiful and David lived nearby with his family. We all went round to David's for Christmas lunch and spent the rest of the holiday seeing the sites of Boston. Ellie and Joe got on fantastically with David's little boys and Martin and I clicked immediately with David and his wife Alysa."
"It really was a magical Christmas and it was lovely to come home to hear how happy Pat and my mum had been to spend Christmas with Layla. It was just a shame Layla and I didn't get to meet up, but we've already made plans to visit Boston again soon."
"We spent Christmas 2009 back home in England and it was really lovely but our Christmas in Boston will always be extremely special."
You might also like...