Should You Visit Lapland at Christmas Time?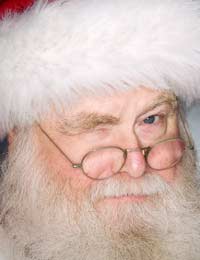 It's true that a trip to Lapland will be remembered for ever. Now, whether that's because you never manage to pay off your credit card or because it is so festive is up for debate.
What to Expect
Lapland is really expensive. Although it's in the Euro zone, the prices are far higher than most of Europe, with drinks and snacks costing around three times the price they would in the UK. Lapland is also very cold. Exceedingly cold. Rarely does it go above freezing, with average temperatures between -7C and -35C. A fleece will simply not cut it in these temperatures – you need a number of thermal layers, wind resistant and waterproof outer layer and plenty of extra pairs of socks and gloves.
Both of these key factors means that it is not really a good idea to go to Lapland with very young children who won't really remember the expensive experience and will not enjoy the cold one little bit. However, older pre-teenage children will have the time of their lives!
Visiting Lapland in the run up to Christmas is certainly a once-in-a-lifetime experience. Most visitors tend to choose a one day trip, although longer packages are available. Lapland is only a 3 ½ hr flight from the UK with most day trips starting at 7am and returning by 9pm. It's a long day, but it's one to remember!
The Trip
The flight is made part of the trip, with carol singing and Christmas games on board to entertain the children and get everyone in the festive spirit. Once you've arrived, depending on the package you've bought, your day will be filled with husky rides, snow mobiles and feeding reindeer.
Not to mention the highlight of the trip – meeting Father Christmas! Some of the cheaper trips just have a 'group meeting', so if you specifically want your child to meet Father Christmas individually, check it when you book. Make sure you take a letter for Father Christmas with you and he will read it out and talk to your child to see if they've been good this year.
An important detail to remember is that the majority of cameras and video recording equipment will not work in the extreme cold, especially if it's expensive digital equipment, so buy a cheap disposable camera to capture those lovely moments on film. Also, there is very little daylight in Lapland and lots of deep snow, so try to take your pictures whenever you get a chance, rather than waiting for the perfect moment as you may find it passes rather quickly.
Staying Overnight
If you've chosen a package that is longer than one day, you will be able to enjoy the cosy log fires and comfort food available in the evening at your hotel. While Lapland isn't known for its haute cuisine, there are plenty of tasty treats to have, as long as you have deep pockets to pay for it. Reindeer casserole, fondues and après ski-type food is found here, with warming mulled wine and plenty of schnapps to wash it down.
Can't afford lapland? Create your own with some themed decorations and mulled wine!
You might also like...