How to have a Homemade Christmas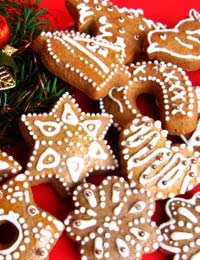 Everyone loves Christmas. All the family together, singing carols, eating delicious foods, playing games in a beautifully decorated house full of lights and colours. For a lot of people it's the best time of the year. The festive season is supposed to be a season of joy and happiness and peace and goodwill and for most people it is. However there is one element of Christmas that can bring nothing but misery and worry for some and that's finances.
Everyone wants a beautiful home at Christmas with lots of lovely food and decorations but not everyone can afford it. Let's face it, Christmas is expensive. And the thing that shops seem to forget is we don't get paid any more at Christmas. Besides the lucky few who may get an annual bonus, it's not as though our bosses think "it's Christmas, you'll have a lot to buy so we'll double your salary this month". We have the same amount of money as we have every month except in December we're expected to do twice as much with it.
Hamper schemes were set up to help with this. They enabled people to save a little each month and then have savings to spend on food, decorations and gifts with that company at Christmas. However the recent hamper scheme scandal has made people wary of such schemes. Once again therefore, consumers are left struggling to afford things at Christmas.
DIY Christmas
However it doesn't have to be like that. There is a way you can have a cheaper Christmas that's actually loads of fun too – have a homemade Christmas. Having a homemade Christmas means the kids can get as involved as they like by helping to make homemade gifts and decorations and taking part in Christmas crafts to entertain themselves over the holidays.
Homemade Gift Ideas
Home made doesn't just have to be something for the kids. You can make
homemade gifts
and decorations that will look just as good as store bought. For your friends how about making Christmas chocolates or
mince pies
and giving them as a sweet and delicious Christmas present? Or make a beautiful frame for a cherished picture of you all together.
Homemade Decorations
If you want to make your house as beautiful as Christmas back in the old days homemade Christmas decorations are a must. Paint pine cones with gold or silver paint to give them a festive look then hang from your Christmas tree. Or have the children make streamers out of red and green paper.
Finances can be a worry at any time of the year but at Christmas they become especially so. There seems so much to buy and you wonder where you'll find the extra cash. Don't panic. Homemade Christmas decorations, card, treats and anything else you fancy can be just as beautiful as those you buy and best of all their more fun to make! So head down to your local craft store and see what bargains you can pick up. Here are some more great ideas for homemade decorations.
You might also like...