Homemade Stuffings for Christmas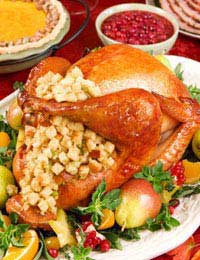 When you've gone to all that trouble to organise your traditional Christmas dinner, why use packaged stuffing? It only requires a little more effort to make your own, much more flavoursome and fresher version, so definitely worth spending time on. However perfect your main dish is on Christmas Day, a homemade stuffing helps to give it special character.
The following recipe suggestions are not expensive or difficult; but once you've made your own stuffing, you're unlikely to go back to the packet!
Classic Sage and Onion Stuffing
Serves 4 and is especially good with chicken, pork or goose.
450g onions
125g soft white breadcrumbs
1 tbsp fresh sage, finely chopped (or 1 tsp dried sage)
1 tsp chopped fresh parsley
Salt and Pepper to season
Method
Peel and quarter the onions. Place in a saucepan of cold water and bring to the boil. Cook for about 10-15 minutes, until the onions are tender. Remove onions from hot water-finely chop or mash them. Mix the mashed onions with the breadcrumbs and sage. (Add a little of the pan water or melted butter to bind the ingredients together if they seem too dry.)
That's it! Use as required to stuff a joint or roll into balls to serve separately. For a meaty stuffing, just add 225g sausage meat and omit the herbs if you prefer.
Mushroom and Bacon Stuffing
Serves 4 and is very good with turkey.
125g wiped whole mushrooms
50g chopped bacon
1 small onion, finely chopped
125g soft white breadcrumbs
25g butter
2 egg yolks
1tsp lemon juice
Salt and pepper to season
Method
Gently fry the mushrooms in butter with the onion, bacon and lemon juice. Lower the heat, cover the pan and cook until the onion and mushrooms are soft. Remove pan from heat and mash the mushrooms.
Place the breadcrumbs in a mixing bowl then add the mushrooms and other ingredients, mixing them well as you do so.Add the beaten egg yolks, a shake of salt and black pepper. Use as required.
Sultana and Lemon Stuffing
This is great with goose and duck, but double these quantities for goose.
1 onion, peeled and finely chopped
50g sultanas
1 tsp grated lemon rind
1 tbsp chopped parsley
100g soft white breadcrumbs
150ml dry cider
1 egg, beaten
Salt and pepper to season
Method
In a small pan, simmer the onion and sultanas together in the cider for about 15 minutes, or until the cider has been absorbed.Mix the contents of the pan with the other ingredients before binding with the beaten egg.
Season as desired and use as required.
Apricot and Walnut Stuffing
Especially good with turkey.
75g dried apricots
200ml dry white wine
1 large onion, peeled and finely chopped
175g soft white breadcrumbs
4 tbsp chopped parsley
25g butter
20 shelled, finely chopped walnuts
Method
Leave the apricots to soak in the wine overnight then drain them when you are ready to make the stuffing. Keep the wine though!Finely chop the apricots. Gently fry the onion in butter to soften it. Use a mixing bowl to combine all the ingredients - including the used wine.
Ready to use!
Some more alternative additions to homemade stuffing include celery, apple, rice and figs. Use the first recipe - minus herbs - as a basic to add to. As long as there are no big lumps of anything and the consistency is moist, don't be afraid to experiment with your homemade stuffing. (Preferably before the big day though!)
All that's left for you to do now is check out
the timings for your turkey
!
You might also like...