Christmas Day Starters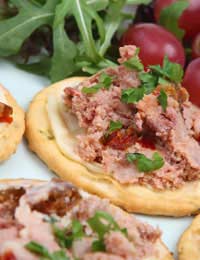 With the mathematical and culinary annual challenge of Christmas Dinner foremost in our minds, what makes an ideal starter today? Probably the best policy is to go for food that's simple to prepare but slightly out of the ordinary, tasty but not overpowering and definitely not too filling to make way for your Christmas main course!
For an appealing garnish and extra-special presentation, why not use finely diced red tomatoes or edible seasonal berries with fresh red and green lettuce leaves with your starter? The following suggestions fit the bill beautifully. Each list of ingredients should serve 6 people.
Baked Shrimps
This starter can be prepared hours in advance - why not get the kids to help prepare them on Christmas Eve? They can then be baked for 10 minutes when you're ready to serve on Christmas day.
275g peeled shrimps
150ml crème fraiche
50g unsalted butter
Fine wholemeal breadcrumbs
Black pepper
Cayenne pepper
Method
Lightly butter 6 individual ramekins (or similar small flameproof dishes.) Divide the shrimps equally between the ramekins - about 2 tablespoonfuls each. Grind a little fresh black pepper over each. Then cover shrimps with the crème fraiche. Sprinkle a thin layer of breadcrumbs over the top of the crème fraiche and dot with butter. Refrigerate until needed.
Bake in a preheated oven 190C for 10 minutes then brown under a hot grill for about a minute. Garnish with lemon slices and parsley sprigs. Serve with wholemeal bread rolls and butter and cayenne pepper.
Crab and Canteloupe Salad
This starter takes about 10 minutes to prepare and the base mixture can also be made and refrigerated on Christmas Eve.
450g cooked crab meat (tinned is easiest!)
120ml light mayonnaise
45ml natural yoghurt
2 tbsp extra virgin olive oil
2 tbsp lemon juice
2 small pickled gherkins, finely chopped
2 tbsp chopped coriander
1 canteloupe melon
4 small chicory heads
Sea salt and black pepper to season
Coriander sprigs to garnish
Method
Drain the crab meat-discard liquid. In a medium-sized bowl, mix together the mayonnaise, lemon juice, olive oil, yoghurt, finely chopped gherkins and coriander. Taste the mixture and season with salt and pepper if desired. Gently fold the crab meat into the bowl but keep it as chunky as possible. This can be refrigerated, as is, until required.
When ready to serve, halve the melon, de-seed and slice into thin strips then remove the rind from each slice. Arrange the chicory leaves and melon slices on individual plates, spoon the crab mixture onto the plates and garnish with a few sprigs of coriander.Serve with thinly sliced brown bread and butter.
Quick Smoked Mackerel Pâté
This makes a delicious and attractive starter in minutes and is even better if made the night before then chilled. Keeping it simple...
500g smoked mackerel fillet, skinned
90ml crème fraiche, sieved cottage cheese, or low fat soft cheese
2 tbsp chopped fresh parsley
2 tbsp lemon or lime juice
2tsp creamed horseradish
Add freshly ground black pepper, or cayenne, to taste
Method
Remove any fine bones from the fish fillets! Place all the ingredients together in a food processor and whizz until smooth. Transfer the pâté to a container, cover and refrigerate overnight. Remove the container from your refrigerator about 30 minutes before you are ready to serve it. Divide the pate into equal portions on individual plates. Garnish as previously suggested and serve with crispbreads or Melba toast and lemon wedges.
Merry Christmas Eating! See more Christmas dinner starter ideas here.
You might also like...