Turkey Vs Goose: A Quick Guide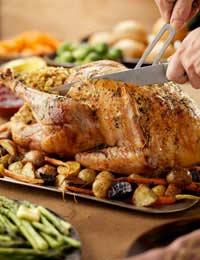 Traditionally, goose was always the bird of choice to be served as the prized centrepiece of any Christmas feast. Over the years, however, turkeys have proved an equally, if not more, popular choice. Read our quick guide to deciding which to choose for your own Christmas dinner table this year.
Flavour
The flavour of goose and turkey meat is quite different. Turkey meat is more delicate than that of goose and can be compared to chicken. The flesh has a fairly close-grained texture, is light in colour and naturally low in fat, so producing a lean meat which is high in protein. The most flavoursome birds derive from free-range, slow-growing turkeys – especially bronze varieties – which have had time to mature and produce some lean fat.
Goose, on the other hand, has a much stronger, more 'gamey' flavour, a little like duck. It has a much higher fat content and produces a richer, juicier, darker meat.
Cost
There are far more price options for choosing a turkey than a goose. This is mainly because, like chickens, there are a number of ways in which turkeys are farmed. A frozen, intensively reared bird will be at the cheapest end of the scale, with an organically fed, naturally reared bronze turkey, being at the most expensive.
Geese though, cannot easily be factory farmed. For this reason they are raised as seasonal produce in lower quantities, which pushes the cost up. A goose, then, can be more costly investment for your Christmas table. But by dint of this fact, the quality and texture of the meat is always good, with plenty of flavoursome marrow in the bones.
Food Value
Turkeys have a higher meat-for-weight content than geese, so that you can expect a 12lb turkey, to feed 12 people quite comfortably. Geese, because of the amount of fat released during cooking, have far less meat to bone, so that the same-sized goose may only feed six to eight or so people. Goose, then, would be a good choice for smaller celebrations rather than for very large parties. Also, if you like to take a rest on Boxing Day, goose doesn't provide so many left-overs!
Preparation and Roasting
The skin of a turkey should be rubbed with fat such as butter or oil, laid in a roasting tray, breast side up and roasted until brown. The heat should be turned high for the first 20 minutes or so and then reduced for the required amount of time. Care should be taken not to let the meat dry out and can be covered with layers of streaky bacon or tin foil for added protection, as desired.
Because it already contains an abundance of natural fat, a goose doesn't need anything added to its skin before cooking – unless you want to add just a tablespoon or so of oil for crispy legs. Rather, just season to add flavour and then prick the skin of the bird all over – especially under the wings – so that the fat is released during cooking. Then lay the bird on a wire rack in a large roasting tin and roast. The temperature should usually be higher than for a turkey to encourage the fat to melt. The fat will then collect in the tin and should be drained off at intervals - although remember to reserve it as it makes fantastic roast potatoes!
Stocks and Sauces
Turkeys produce a light-coloured, aromatic stock with a buttery flavour, a little like that of chicken, and will make a lighter coloured gravy. Stuffings which have a high juice or fat content such as sausagemeat or lemon, will add moisture to the bird whilst cooking and fruity sauces or chutneys will go well with the subtler flavour. Goose stock is much richer in colour and also far sweeter. Stuffings which can compliment this, such as those made with chestnuts or prunes work well as do sauces, pickles or chutneys using fruits like spiced pears or apples which help to cut through the richness of the dish.
So whether its goose or turkey for you this year, remember to order your bird and enjoy the feast!
You might also like...