Christmas Dinner: Ideas for Starters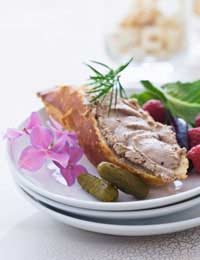 Unless you're happy to spend the whole of Christmas morning in the kitchen, your Christmas dinner starter needs to be light, tasty and easy to prepare. Of course, you don't want it to be too light – after all, this is Christmas! – But you also don't want to spoil your appetite before the turkey and all the trimmings!
Many people like to have a fish or seafood starter on Christmas day, because not only does it complement the roast dinner to follow, but it also seems particularly celebratory. The fact that seafood is often served cold (so you don't have to use valuable oven or hob space) and goes perfectly with Champagne is simply a bonus!
Classic Prawn Cocktail
Everybody loves a good prawn cocktail (unless they have a seafood allergy! Do check first.) It doesn't take very much preparation, but you do need to make sure you have lovely fresh ingredients. You can save the last minute hassle of buying prawns on Christmas Eve by having lovely big peeled, ready-cooked prawns in your freezer, so you'll only have to remember to get them out in the morning to slowly defrost.
In your prettiest glass dishes (or a sturdy wine glass) put a small handful of shredded lettuce, and then add a couple of slices of lemon-rubbed avocado, at least five juicy prawns and then a generous blob of Marie rose sauce. To make the sauce, simply mix equal parts of good mayo and ketchup, with a dash of Tabasco. Garnish with a lemon slice for retro appeal!
Pâté with Onion Marmalade
If you don't want to serve a fishy starter but still want something light and easy to prepare, how about pâté? You can make it well in advance (chicken liver pate freezes particularly well) or buy a good quality one from a supermarket or your local deli - they often stock special flavours for the Christmas period too.
Although hot buttered toast is a delicious accompaniment to pate, this isn't really practical if there are more than two of you as it's a hassle to make and keep warm. The best alternatives are oat crackers (just open the packet!), Melba toast - make a couple of days before Christmas and store in an air-tight container - or those part-cooked baguettes. A top tip if you're using these is to slice them before you put them in the oven and then cook for a few minutes less than stated, so they go a little more crisp and it saves you task of slicing a baking-hot baguette!
Whatever you choose, a good pâté is always complemented by a home-made pickle or chutney. Of course, you can just use your favourite brand or recipe, but onion marmalade is really easy to make and tastes delicious! Simply slice about three onions (or loads if you want to make a batch to freeze) as finely as you can and cook them very slowly in a mixture of butter and olive oil. Once they are caramel-brown (you can add a teaspoon of sugar and a few drops of water to help it along), add in a finely chopped clove of garlic, plenty of seasoning and some thyme. After a couple of minutes extra cooking, it's ready!
Making your own?
If you've enjoyed making your own pâté, why not try
making chutney
? It's a great gift to give at Christmas, and is perfect to serve with a cheese board or cold cuts on Boxing day.
You might also like...