Common Favourite Christmas Songs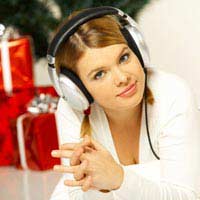 There's nothing quite like music to put you in a good mood - and the Christmas repertoire is absolutely huge! The number one spot in the charts at Christmas is the most coveted one of the year, too: just ask Cliff Richard, who's been releasing a Christmas single every year for the past few decades…
Slade - Merry Xmas Everybody
One of the biggest Christmas hits ever in the United Kingdom, Slade's Merry Xmas is a fabulous blend of glam rock and sleigh bells. The perfect tune for a rocking Christmas!
Bing Crosby - White Christmas
An absolute all-time classic and still going strong after all these years… There's nothing more romantic than waking up on Christmas morning and finding the world covered under a white blanket, and Crosby's song captures that feeling beautifully. Crosby is best known for his Christmas songs, just like Andy Williams - who recorded no less than eight Christmas albums!
Wizard - I Wish it could be Christmas Every Day
Don't we all wish every day could be like Christmas? Wouldn't that make the world a much better, more peaceful and caring place? It sure would, and that probably explains why so many people love this song so much…
Chris Rea - Driving Home For Christmas
A beautiful song about a man who's on his way to his loved ones to celebrate Christmas Eve with them, this Chris Rea classic has been one of the most played songs during the holiday season since it first came out. And it's not hard to understand why: apart from the lovely lyrics, Rea's husky voice and laidback delivery add just the right touch of melancholy.
Fairytale of New York - The Pogues/ Kirsty MacColl
A boozy ballad of love and regret, this track went to number 2 in the charts in 1987 and has been a hot favourite ever since. A definite seasonal number one hit for most. Kirsty MacColl sadly died 19th December 2000; however, Kirsty will always be remembered to everyone worldwide by this wonderful song.
Vaughn Monroe - Let It Snow
You probably know this in someone else's version - the song has been covered by Chris Isaak, Andy Williams, Bing Crosby, Dean Martin, Gloria Estefan, Jessica Simpson and of course Cliff Richard, to name but a few - but Monroe was the first to score a huge hit with this lovely tune. Another classic!
Eartha Kitt - Santa Baby
This one's been sung by just about every sexy girl singer to have graced the charts over the last five decades, from Kitt herself over Madonna to Kylie Minogue. It's a naughty little song about a woman's list of things she wants for Christmas, and features the now legendary line "so hurry down the chimney tonight"… How could Santa resist?
Bruce Springsteen - Santa Claus is coming to Town
Sure he didn't write it or record it first (that privilege was Joe Harriss'), but there's no one who sings this great party song quite like The Boss does. Rocking all the way to Christmas Eve!
You might also like...