Favourite Festive Films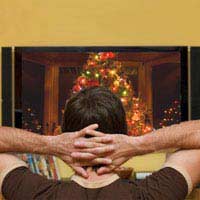 We don't know about you, but one of our favourite Christmas rituals is waking up really early on Christmas eve morning, going into the cold living room that still smells of Christmas tree and mulled wine and curling up on the sofa under a snug blanket to watch Christmas movies. And there are plenty of great ones to choose from…
Scrooged
"Scrooged", starring the amazing Bill Murray, is an absolute classic. It is - of course - based on the inevitable Scrooge story, but done in a very cool way. Murray plays the head of a broadcasting company who is confronted with the ghosts of Christmas past, present and future and changes his ways around: sure it's a little cheesy, but it's also truly funny and the eighties feel of the movie is for once totally irresistible.
The Nightmare Before Christmas
Nobody said everything about Christmas had to be all light and merry, and so Tim Burton came up with this dark yet heart-warming and hugely entertaining stop-motion film. The story is compelling, the look of the film is awe-inspiring, and the music (by the legendary Danny Elfman) is so great you'll want to use it as the soundtrack for your next Christmas party. Absolutely unmissable.
Home Alone
It is totally impossible to compile a list of great Christmas movies without including this one: anyone who's older than fifteen remembers this movie from when they were growing up, and everybody else should watch it straight away. There's not exactly a lot of depth to the story, but the adventures of the little guy - and the misadventures of his two nemeses - are intensely funny.
Love Actually
For romantics everywhere the film is set in London and begins right at the start of the Christmas season and leads us right up until Christmas Eve. The film weaves a number of love stories together, connecting many characters together in the process. With the handsome Hugh Grant, the talented Emma Thompson and the dashing Colin Firth this film is a great 'rom com' with the Christmas spirit thrown in.
The Snowman
The magical tale of a little boy and the snowman that came to life will bring a tear to anyone's eye and is a Christmas favourite with adults and children alike. Just make sure you have a bix of tissues near by as you'll be crying by the end!
Die Hard
Ok, not exactly a Christmas movie, but it is set in December, and Bruce Willis is just cool. Alright?
The Polar Express
Tom Hanks stars in this wonderful Christmas fantasy - well, a digital version of the actor anyway. The story revolves around a little boy who is not sure if he believes in Santa Claus anymore - and in Christmas altogether. Until he's picked up by a magical train and transported along with a load of other kids to the Christmas village… A movie sure to make even the staunchest of non-believers hang up their stockings again.
And if you're still feeling like you want more there will always be a great array of Christmas films at the cinema! Just make sure your home and tucked up in bed before Santa comes!
You might also like...