Transporting Iced and Decorated Cupcakes Safely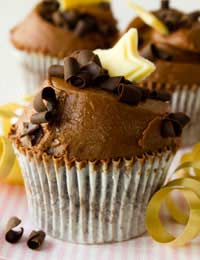 Once you've got the hang of making and decorating your own cupcakes you are likely to find that family and friends beg you to bake your creations for their personal celebrations. You may even find that it becomes more than a passion, or even a hobby, and turns into a business: many an artisan baker has started out making cakes for birthday parties!
On the other hand, you might just want to bake a huge batch of cakes for a special celebration such as a wedding, graduation or other event, and realise that you're going to have to move the cakes from your kitchen to the place they will be displayed and eaten. Working out the logistics of transport and display in advance can make the difference between a successful experience and a stressful demoralising one.
How To Pack Cupcakes
If you only have a few cupcakes to move from one place to another, the easiest solution is to pack them back into the cupcake tray in which you baked them. Don't put them back in the dips though, as it can be very difficult to ease decorated cakes back out without causing damage to the icing – instead turn your cake baking dish over and press a piece of baking foil into the back. You can then pop the cupcakes into the indentations (the gaps between the inverted baking holes) and easily get your fingers in between the cakes to life them out. This allows you to transport nine, twelve or 22 cupcakes at a time, depending on the size of your baking tray.
Some people also save the cardboard cartons given away to transport take-away coffees as these can hold four cupcakes comfortably, but they don't provide much support and are lightweight so they shift around easily in a vehicle.
If you're regularly moving cakes around you might want to invest in a plastic carry box designed specifically for cupcakes. These are re-usable firm plastic cupcake carriers that will contain dozens of cupcakes using separators to stop the cakes moving around. Some are collapsible so they can easily be stored and several have handles that can be used also to stack one carrier on top of another.
There are throw-away paper and soft plastic containers specifically designed to carry cupcakes. The paper containers tend to range in size from single cupcake holders suitable for parties where the guests are to take a cupcake home, through to boxes that carry a dozen. They are less sturdy than the plastic ones and therefore shouldn't be relied on for high pressure situations as it's only too easy for a tier of cakes to be dented or squashed in a cardboard container. Their advantage is that they tend to be offered in an attractive range of colours and designs.
How To Transport Cupcakes
Whatever your method of packing, put your cupcakes in a vehicle on a non-slip surface: fitting your boxes into a larger box that can be padded with an old blanket is a good idea as it cushions any sudden braking or swerving that could cause the boxes to slide around.
When lifting the cupcakes from the vehicle, make sure your route to the display area is clear – you don't want to slip on a wet floor or collide with another person and have all your hard work literally fly up in the air! Finally, ensure that the place you put your cupcakes is not too warm: kitchen appliances like fridges can produce a lot of waste heat that melts icing and dries out cakes.
How To Display Cupcakes
For truly flawless presentation, consider icing your cakes when you reach the venue. Remember to pack your icing equipment and toppings to take with you.
Displaying cakes at different heights makes the best impression. If you have cake stands, they often give the most stylish appearance and you can put the other cakes under the table and keep replenishing the stand as people help themselves. For bigger events, try covering a table with a beautiful piece of cloth under which you've hidden a some sturdy wooden or plastic boxes (like your transporting boxes!) at various heights. This allows you to display cakes on different sized and coloured plates, using the hidden boxes as plinths. Upside-down concealed flowerpots work well as display stands for individual cakes too.
Here are some fabulous cupcakes to make this Christmas.
You might also like...