Ice Cream Cone & Summer in Winter Cupcakes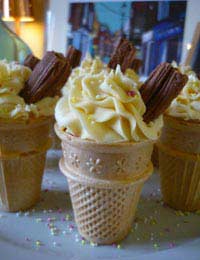 Two different summer-themed recipes to thrill winter guests.
Summer in Winter Cupcakes
These pretty, summery cupcakes bring the light and delicate flavours of summer to your Christmas table. Featuring garden produce, they are bound to be a hit with those whose palates have become deadened by the rich flavours of winter food.
Crystallised leaves and flowers
These summery features are surprisingly cost-effective to produce in winter. Many gardeners will have lemon balm or scented geranium leaves in the greenhouse that can be used, or buy a cheap fresh rose and strip the petals.
You need 12 rose petals and/or 12 lemon balm or scented geranium leaves. Beat an egg white lightly and using a soft paintbrush, apply to both sides of the petals and leaves before dipping in white caster sugar. Set them on a piece of greaseproof paper and leave in an airy place for around four hours until they become dry and crisp.
Lemon Cupcakes
This is a light sponge that has a summery citrus flavour.
Ingredients
125g softened butter
125g caster sugar
2 eggs
125g self-raising fine milled flour
2 teaspoons lemon juice and grated zest of 1 lemon.
Method
Preheat the oven to 160°C or Gas 5.
Beat all the ingredients together and then spoon the mixture into 12 cake cases – if possible get pale green or yellow cases to add to the summery effect.
Bake for around 20 minutes and leave to cool on a cooling rack.
Springtime Icing
Mix 150g icing sugar with a teaspoon of lemon juice and the finely grated zest of half a lemon. Add more lemon juice drop by drop to get the right consistency – if the icing is too runny add more sugar, if too firm, add more lemon juice. Add a single drop of yellow food colouring to give the faintest hint of colour and spread on the cakes, using a wet palette knife to help spread the icing evenly over the top of each cake. Leave for thirty minutes to begin to set before placing a crystallised leaf and petal on top of each one.
Ice Cream Cone Cupcakes
These delicious and fun cakes make children happy but are tasty enough to please grown-up kids too! You need to use a dozen flat bottomed ice cream cones and to space them well out in the baking tray. You can only get one layer of these in the average oven, so take out all the other shelves and make sure the one you leave is low to easily slide the cones in without them catching on the top of the oven.
Ingredients
80g caster sugar
80g unsalted butter, at room temperature
65g self-raising flour
20g cocoa powder
1 medium egg
1 tablespoon milk.
Method
Preheat the oven to 180ºC or gas 3.
Beat the cake ingredients together and add more milk if necessary to make a soft dropping consistency – pour it gently into the cones and get the tray into the oven as soon as possible so that the bottoms of the cones don't get too wet before they start cooking or the mixture may break through the bases. The cones shouldn't be more than half full or the mixture will tend to rise over the top too.
Because they are in a different-shaped and sized container the cakes will cook at a different rate. Usually it takes around 12 minutes but use a toothpick to check if the cakes are cooked.
As soon as they are out of the oven, lift the cakes carefully from the baking tray onto a wire cooling rack.
When they are cold, pipe vanilla flavoured butter-cream icing onto them to resemble soft ice-cream and cut a flake chocolate in half to stick in the side. Then sprinkle with hundreds and thousands before serving.
Add these to your
Christmas tree truffle cupcakes
for a fabulous table spread.
You might also like...