Xmas Tree Truffle Cupcakes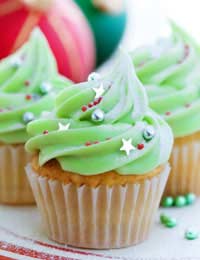 These Christmas tree cupcakes have a wonderful truffle icing that tastes as spectacular as it looks. The recipe has some unusual features but is well worth the extra effort as their final appearance is stunning
They are large cakes so make sure you use the muffin sized cake cases to bake them or they will spill over the edge. Timing the cooking is important too – if they are undercooked they will sink as they cool, meaning that the icing 'tree' won't work and if they are overcooked they will become dry and may crack on the surface, making them difficult to ice and unattractive.
To make these cakes you need to plan in advance as the cakes have to be cooked and then cooled completely which takes around four hours from baking. The first 'snow' icing is added and left to set overnight before the 'Xmas tree' is iced on top of the snow.
Ingredients
175g caster sugar
175g unsalted butter, at room temperature
125g self-raising flour
50g cocoa powder
3 large eggs
12 milk chocolate truffles
Method
Preheat the oven to 180ºC or gas 4.
Beat together the sugar and butter. Sieve the flour and cocoa together to add air.
Now beat 1 egg at a time into the creamed mixture along with a tablespoon of flour to stop the mixture curdling.
Beat the remaining flour and cocoa into the mixture and beat briefly to combine before spooning into 12 muffin cases. Press a chocolate truffle into the top of each one, so that it's more or less covered by the mixture. Bake for 20 minutes, until the cakes have risen and are lightly golden.
Cool on a wire rack. The cakes must be completely cold before the decoration stage begins.
Snow Icing
This is a simple icing that forms the base of the design. The consistency needs to be right, so you may prefer to make the icing in advance, and cover it with plastic film to stop it drying out.
Ingredients
Simply blend the icing sugar with a teaspoon of water. Add more water drop by drop to get the right consistency – if the icing is too runny add more sugar, if too dry add more water. You need the icing to be fairly firm so that it has the opaque appearance of snow.
Spread the icing over the top of the cakes, using a wet palette knife to help spread the coating evenly over the top of each cake. Leave overnight to set before adding the icing 'tree'.
Chocolate Truffle Icing
200g unsalted butter, at room temperature
400g icing sugar, sifted
100g white chocolate, melted, at room temperature
Green food colouring
Sprinkles or edible glitter
Method
Beat together the butter, sugar and melted chocolate and when it is all well blended, add green colouring drop by drop until it has a rich colour. Place the icing in a piping bag and leave in a cool place (but not a fridge) for an hour to firm up a little. With a star nozzle pipe a tall tree shape onto each cupcake.
Decorate with edible glitter. For added drama, place an indoor sprinkler in the top of each cake like a star and light in a darkened room.
LOVELY CHRISTMAS IS FOR SALE.
This website is for sale [more info].
You might also like...