Make and Store Dried Fruit Based Cupcakes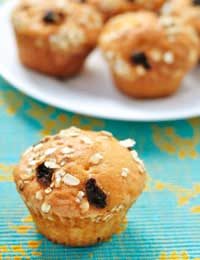 There are both positive and negative aspects to making dried fruit cupcakes.
On the plus side, the cakes themselves will keep much longer than sponge based cupcake recipes do – anything up to three months in perfect condition if not iced or allowed to dry out. On the minus side, they can be a little more difficult to bake and probably don't look at their best if cooked in cases, which means for the most impressive appearance you should invest in some metal or silicone cupcake trays.
This recipe makes 12 cakes. Because they are denser, they are much more filling, and you may wish to offer to halve cakes before serving, as most people find half a cake is quite enough!
Ingredients
90 grams softened butter
110 grams light brown sugar
2 eggs, lightly beaten
1 tablespoon orange marmalade or apricot jam (chop any large pieces of rind or fruit in the preserve before adding to the mixture)
500 grams mixed dried fruit, either finely chopped by hand or pulsed briefly in a food processor
100 grams plain flour
2 tablespoons self raising flour
1 teaspoon mixed spice
2 tablespoons sweet sherry (or apple juice for teetotallers).
Method
Pre-heat your oven to 160ºC or Gas mark 3 – note this is considerably lower than other cupcake recipes. Don't automatically use the sponge cake temperature because that is too high and will scorch the fruit producing bitter and dry cakes.
Grease a 12 cupcake pan or use with cupcake cases, but the best effect will be obtained by allowing people to see the sides of the cakes and appreciate the dried fruit appearance.
Beat the butter and sugar until creamy and then add the eggs until just combined. Using a large metal spoon, stir in the mixed fruit and marmalade and continue to fold until well combined before sifting the flours and spice over the top of the mixture and folding in with the liquid ingredient.
Spoon the mixture into the pan or cases – use the back of a teaspoon dipped in hot water to just smooth down the top slightly – you don't want any protrusions as these cakes don't rise in the way that sponge cakes do.
Bake for about 50 minutes, but start checking with a skewer after 40 minutes. When a skewer inserted through the middle of a cake comes out clean they are ready.
Remove from the oven and cover the top of the pan with metal foil. Leave the foil on top of the pan until the cakes have cooled completely. This means the moisture in the cakes does not evaporate away as they cool, so they become denser and moister and more delicious.
Storage
When the cakes are completely cold (allow at least one and a half hours for this, preferably overnight) remove the foil and take the cakes from the pan. Store in airtight containers until you are ready to ice them.
If the cakes become at all dry, you can revitalise them by adding either a small amount of sherry or freshly squeezed orange juice, not more than a teaspoon per cake. Simply make a few holes in the top with a toothpick or cocktail stick and pour the juice over the top, leaving for at least 2 hours before icing. Check out some more tips on adding alcohol to cupcakes here.
You might also like...