Hot Buttered Rum and Spiced Orange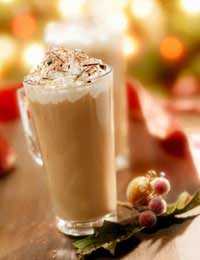 When we think of warming Yuletide drinks we think of mulled wine and a steaming mug of hot chocolate – and to be sure, both are completely delicious – but there are other festive drinks to be made which are just as wonderful and somehow don't quite share the limelight. Why not ring the changes and try some of the following recipes.
Hot Buttered Rum
The ultimate hot toddy, just the name of this drink conjures up cosy evenings by the fire and the twinkling of Christmas lights.
Place half a measure of crème de cacao and one measure of dark rum in a pan. Add 1tbsp brown sugar, a clove, a cinnamon stick and some grated nutmeg. Warm gently and pour into glasses. Serve with a knob of butter by the side and pop a cinnamon stick into each glass to stir it in with. Scrumptious with good shortbread or melt-in-the-mouth mince pies.
Café Royal and Christmas Coffees
This drink is a classic coffee cocktail and a nice alternative to dessert after dinner. Best consumed with some dark chocolate wafers.
Make some good quality, strong black coffee, and then carefully pour over the back of a metal spoon into a heat-resistant glass. If you like your coffee sweet, add sugar at this point and stir in approximately one tablespoon of brandy. Then add a little whipped cream to cover the surface of the coffee so that it floats and sip the hot coffee through the cool cream. Heaven!
If you don't care for brandy, you can also use whisky (Irish coffee), brandy or Curacao (café orange) or a non-alcoholic version with cardamom or sugar and cinnamon.
Spiced Orange and Cranberry
This is a really super non-alcoholic drink which still has all the flavours of Christmas. Place together in a pan, two oranges, peeled and cut into small chunks, 1litre cranberry juice, 2 cinnamon sticks, cloves (if you like them), about quarter of a nutmeg, grated, and sugar to taste. Heat and serve.
Wassail
Wassail is a hot drink which stretches back to the Middle Ages made with ale or cider and was originally drunk to welcome in good apple harvests. The word 'wassail' was a contraction of the Old English greeting 'waes hael' and the drink was therefore also used at Yuletide to toast people's good health.
There are many variations on Wassail, but this recipe is deemed to be one of the most authentic. Mix together 110g of sugar with 1 pint (570ml), of beer or ale, 275ml of sherry and add some grated nutmeg and ginger. Then stir in a further 5 pints (or just over 2.5 litres) of beer and leave to stand for two or three hours before heating gently to serve.
Hot spiced Cider
This is another drink which dates back many years but today goes really well at Christmas with a simple dessert of baked apples, strudel or applecake on a cold winter's night. In order to make it, put 4 pints (2.25 litres) of dry cider (don't use the sparkling variety) in a pan together with 225g of brown sugar. Add cinnamon sticks, cloves and nutmeg to taste and the juice of two oranges. Then simply warm through, being careful not to boil.
Christmas Punch
This fruity spirit punch will really warm the cockles of your heart and get you into that Christmassy mood. Great served after carol singing as an alternative to mulled wine – but watch out, because you do need to prepare it about 4 weeks in advance!
Blend together a bottle of whiskey, 55ml of Southern Comfort and 55ml of dark rum, then pour carefully into screw-topped jars. Add a couple of quarters of oranges, lemons or any other citrus fruit that you prefer and some cinnamon. If you like cloves, then you can also stick a few in the jar.
You might also like...