Why The Christmas Tree Came About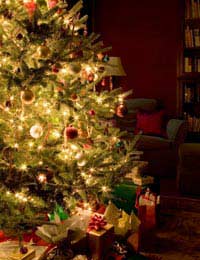 No Christmas is complete without a Christmas tree. The whole process of going to find the perfect tree, bringing it into the house and then decorating it together with family or friends: it is one of the most pleasurable things about the whole holiday.
Christmas Tree oh Christmas Tree
It all starts at the Christmas market or if you live near one, your local forest: the air is crisp and cold; you're wearing gloves and a hat and carefully sift through hundreds of firs, looking for that one that is just the right height and will fit snugly into its designated corner. If you have kids, they'll be trying to make you get the biggest one in the lot. Whichever one you get, you'll have trouble loading it into your car - but that doesn't matter: everybody's driving around with bits of green poking out of their trunks and windows.
Once you get home, the fun continues: after you've placed the tree in its place of honour, it's time to go up to the attic and find the decorations. Like every year, you marvel at how many garlands, Christmas lights, coloured glass ornaments and tree toppers people accumulate over the course of a lifetime - you have hundreds of them. So you bring down the boxes, round up your loved ones and take to your creative task.
How great it is to stand back and think "Mm, a couple more on those branches there" and "That side looks a bit overloaded, let's take some off" until you get it just right and once again have the most beautiful Christmas tree in the whole wide world, standing there in your very own living room. And then you get to put the presents under there as well!
How Did the Christmas Tree Tradition Start?
The Christmas tree tradition started off a lot less 'lovely' than you would expect, though: ancient Germanic tribes and Scandinavian pagans used to sacrifice animals and humans every year around Christmas, hanging them from the branches of trees to plead with the Gods to renew their lease on life. It is said that Saint Boniface Christianized this rather gruesome tradition by coupling the idea of the Holy Trinity to pine trees - they are shaped like triangles, after all.
The Modern Christmas Tree
The modern Christmas tree tradition is claimed to have originated in the mid 16th century in Germany, where the first ever decorated tree would have stood. The Latvians don't agree, however: they say they had already erected a Christmas tree in 1510, in the town square of its capital Riga. It's hard to find out which of these claims holds more truth, but what we can be sure of is that the Germans were definitely the first ones to bring pines into their houses.
Prince Albert, Queen Victoria's husband, is said to have made the custom popular in the UK when he put one up at the royal residence, Windsor Castle in 1841.
The Christmas Tree in Trafalgar Square
Christmas trees have since become hugely popular, and some trees have even become iconic: the one in London's Trafalgar Square for example. This is a huge tree donated each year by the people of Norway as thank you to Britain for its help in the second world war when Norway was under German occupation.
You might also like...