Christmas Crackers: How They Came About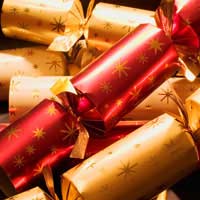 Christmas presents don't all have to be serious – sure a gleaming new iPod, that digital camera you've been wanting to buy for the past few months or even a funky sweater or tie are totally brilliant, but there can be a lot of fun in just silly gifts, too. Especially when it's not sure if you're even going to get to keep them...
Christmas Crackers Invented in Britain
Christmas crackers are a British invention, and have taken the world by storm. They were first made by Thomas Smith, a confectioner from London, who thought it would be a nice idea to wrap other things than sweets in his famous twists of paper – a way of packaging sweets that he'd brought back from France. At first he put little pieces of paper with inspirational mottos in them, but people didn't really like those. So he figured he had to include little gifts – charms and trinkets - and that idea really took off. He marketed them as "Christmas bonbonnes, complete with a surprise".
Smith is also credited with adding the element that makes the typical sound when you open the wrapping: he was at home one day when he saw a half-burned log fall from the fireplace and sparking back to life with a bang. He decided he wanted add that "spark of life" to his "bonbonnes", and after a few years of experimenting (and burnt fingers), he came up with his "Bangs of expectation" – our Christmas crackers.
How Do Christmas Crackers Work?
Christmas crackers are basically cardboard tubes with a decorative wrapper twisted around them. There is also a chemically treated strip worked into the wrapping, which makes the little banging sound when the crackers are opened.
Crackers are traditionally opened by two people, who both pull on one side of the cracker. Typically, the cracker will not tear in the middle, but come apart in two uneven pieces. Whoever ends up holding the larger part of the cracker gets to keep what's inside of it. Kids love this part of the process most, of course – which is why most families buy enough Christmas crackers so that at least everyone gets to keep one little surprise gift.
Christmas Cracker Gifts
Let's face it: the contents of Christmas crackers are generally a bit disappointing. Tiny toys or other completely useless trinkets, paper crowns, jokes (generally not very funny) or quotes… You'd have to be invited to the table of some very rich people to actually find objects of value in your cracker. The British Royal Family, for example, has Christmas crackers made every year that contain little golden trinkets.
Throughout the crackers' nearly 130 year long history, there have been many "special edition" ones: "Shakespearean Crackers", for example - containing quotations from and hats used in The Bard's plays - and "Aesthetic Crackers" containing Oscar Wilde paraphernalia. Wonder what we'll find in ours this year!
Christmas crackers are also a good way to wrap your own personal gift to someone. They're really not that hard to make, even the ones that go bang...why not try to make your own crackers this Christmas
You might also like...