Australian Christmas Traditions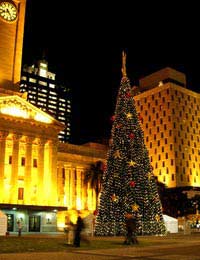 It's a strange proposition: celebrating Christmas in the middle of summer, when it's more than 30ºC outside. Yet Australians and inhabitants of New Zealand, who live on the Earth's Southern Hemisphere, have no other choice…
When you read the Bible story about Joseph and Mary's search for shelter it becomes clear pretty quickly: it was a cold night there in Bethlehem, more than 2000 years ago. That is why some Australians choose to celebrate Christmas in June or July, when it's - relatively - chilly in Oceania. This is not a widespread phenomenon, though: celebrating Christmas in July is kind of like holding the Winter Olympics in Hawaii.
So instead Australians make the most of what they've got, and simply take to the beach on Christmas Day. Sydney's Bondi Beach is one of the most popular gathering places, and features an enormous Christmas tree and plenty of people sporting red bathing suits - some of them even braving the summer sun in Santa hats.
Barbecued Turkey?
Australians are famous for their fondness of barbecues, so it is only natural that many of them choose to flamegrill their Christmas dinner, too.
Turkey
on the barbie: you'll have to agree that it doesn't sound half bad. Ham and pork are other meat favourites, and the highlight of the Christmas dinner is traditionally the Christmas plum pudding. It is of course served doused in spirits and flaming: Australians are notoriously nuts about fireworks - of any kind.
Back in the day of the English settlers, when the goldrush was in full swing in Australia, rich families had a little nugget of gold baked into their Christmas puddings. This tradition is kept alive still - albeit on a somewhat more modest scale. Nowadays a good luck charm is hidden inside the pudding, and this is meant to protect the person who finds it from bad luck and to bring them good fortune.
Plant the Tree
As mentioned before, the Australians sure do like their fireworks. The tremendously beautiful display they put on every New Year's Eve over the Sydney Harbour Bridge is the best proof of that. But it doesn't always have to be as grand to be impressive, though, as is demonstrated by the
Carols by Candlelight
tradition, which began in 1937. Every Christmas Eve in Melbourne, tens of thousands of people clutching candles assemble in the city streets to sing Christmas carols. The effect is simply magical: the city twinkles and gleams and it seems as though the flames of the candles are dancing to the melody of the songs being sung.
It's a bit weird to place a big old pine tree in your house when it's the middle of summer (especially since Australia is not exactly known for its pine forests), so the Ozzies have come up with a different way to decorate their homes: they put Christmas Bush everywhere they can look. The plant is grown locally and bears little reddish flowers - a pretty alternative, and one that needs a lot less decorating.
Merry Christmas Mate!
You might also like...