Christmas Recycling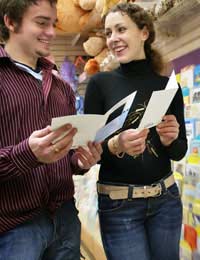 The decorations are down, the Christmas pudding has been eaten and the New Year's resolutions have been started. So now it's time to forget about Christmas and start getting ready for it again in November right? Wrong! If you want to make this Christmas the best ever then you need to start planning as early as possible and the easiest way is to start recycling what you already have - maybe you still have what's left from last Christmas? That way you not only get a head start on your Christmas preparations but you do a good deed for the planet too.
Recycling for Christmas
Recycling is not only a clever way of making use of things you would normally throw out it also helps you do your bit for the planet. Being green is the in thing and by recycling your Christmas cards and decorations you can feel good about yourself while saving money.
Christmas cards
The best things to recycle are Christmas cards. Every year we receive hundreds of cards that we put up over the holiday season and then throw out in January. What a waste! The good thing about Christmas cards is they are always so pretty. The designs on Christmas cards really put you in the festive spirit. Pictures of snowy scenes or beautiful fire places really get you in the mood and throwing them away in January seems silly.
So why not keep them? Of course next Christmas you'll receive more cards so you don't need two from each person hanging on your wall! Instead why not use them more creatively?
Hang Some Christmas Pictures
If you really like a design on a card you receive then why not make it part of your
decorations
? You can cut out the image and frame it for a really festive addition to your living room. Adorning your room with festive images in pretty frames is sure to make your house more atmospheric than the usual pictures that hang on your wall for the rest of the year. You could even jazz up some old picture frames and bring them out especially for Christmas.
Wall Decorations
Why not cut out some of the pretty trees, snowflakes, bells or snowmen that appear on the front of the cards you receive. Three snowmen, for example, placed vertically on your wall are a classy, understated yet fabulously festive decorative.
Of course if you don't want to recycle the cards yourself there are plenty of shops out there that will do it for you. Many department stores offer a Christmas card recycling service. You simply take your cards to one of the participating stores and they'll recycle them, using the card to make more Christmas cards for next Christmas. It doesn't get more eco-friendly than that and it means all those lovely cards people sent to you in good faith are being put to good use. Most local authority door step recycling collections will accept christmas cards too.
Make Your Own Cards, Thank You Notes and Give Tags
Last year's cards make a great basis for being crafty to make cards, tags or thank you notes. Here are some tips for re-using your cards:
You'll need
Foam sticky pads, double sided sticky tape or glue stick (check out your local pound shop to pick up any of these cheaply)
Last year's cards
Scissors
Glitters
Plain Card
Metallic pen (3D ones are great)
Christmas Card and Thank You Notes
To make a christmas card - take some plain black card, cut out some snow flakes or a snow scene from one of your old cards and stick to the black card with a foam sticky pad. Write a brief message with your metallic pen at the top or bottom. Here are some ideas for messages: Merry Christmas, Seasons Greetings, Christmas Wishes are standard ones that work well. For a more creative approach however, why not use the picture on the card to help create a message. Eg. If your snow scene shows a character or person ice skating, you could put "Just skating by to...." and then inside the card "wish you a Happy Christmas" or for a thank you note, "thank you for your present". If you let your imagination run riot you can come up with some fanastic and original cards.
Gift Tags
Cut a piece of A4 card into 4 - once folded, each piece will be just the right size for a folded gift tag. Cut out part of an old card, such as a santa, angel, snowman, snowflake, gift etc. Glue to the front of the card. Make a hole in the inside (top left of where you'll write the message) and attach some shiny string. You could also make 8 unfolded tags in the same way - simply write the to/from message on the reverse and make the hole in the top left of the card.
Recycling Wrapping Paper
If you're not the type of person to rip off wrapping paper, you'll find that you can save sheets for next year just by removing carefully. Alternatively, shred with a shredder and use it to package fragile items or put away decorations for next year. Shredded wrapping paper can also be used in
DIY gift baskets
for next year too.
Recycling gives you the chance to get started early at the same time as helping to save the planet. After all Christmas is about giving and helping people so why not help with the green crusade and do your bit.
LOVELY CHRISTMAS IS FOR SALE.
This website is for sale [more info].
You might also like...