Planning Where to Have Christmas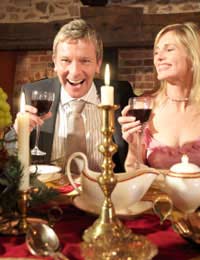 It's the same every year isn't it? As soon as Christmas starts approaching, the dreaded question arises - where are you going to spend it?
Your parents want you at their home. They say your auntie Bet and uncle Jeff are over from the states and they were really looking forward to a big family Christmas round at theirs.
His parents want you at their home. They say they miss having all the family round during the holidays and they've just bought a lovely New Christmas Tree they were hoping the children could help decorate.
You want to stay at home. After a hectic few weeks at work on the run up to Christmas the last thing you want is to have to spend Christmas in someone else's house making pleasantries with relatives you've not seen since you were a child. Nor do you want to have to deal with your mother-in-law in her territory. In your house it wouldn't be too bad, your roof your rules. But in her house it's her way or no way and that doesn't sound appealing!
So Who Do You Please At Christmas?
You don't want to upset anyone, it is Christmas after all, the season of goodwill, but you deserve to have a nice Christmas don't you? Goodness knows you've worked hard enough all year to have a relaxing break! It's not easy but there are solutions.
If you're adamant you want to be in your own house you have to decide who you want there. Obviously this depends on how people in your family get on. If your in-laws can't stand the sight of your parents and vice versa it's probably not a good idea to get them all together in the same room. If that's the case it is going to be very difficult to pick one over the other, especially if both families want to see you!
Tips to Avoid Choosing Who to Have on Christmas Day
Explain to both families that you were really looking forward to spending a Christmas with your own little family and that you will come visit them on Christmas day to swap presents, or if it's not possible to go on the day itself, then you will come on boxing day.
If you want to be in your house but you don't mind who else comes explain to your relatives you think it would be lovely to have everyone all together in your house. Say you want to treat them as a thank you for all their help.
If your family members were looking forward to cooking, suggest you all cook together, put someone in charge of the Christmas Pudding and someone in charge of veg - that way everyone can feel included.
Maybe you're not adamant about staying at home but you don't want to spend Christmas is someone else's house either. If this is the case why not think about going away for the holiday season? Book a cottage somewhere and get the whole family to chip in. Bring a tree and decorations and enjoy a perfect family Christmas with no ones 'house rules'.
You might also like...