How the Christmas Carol Came About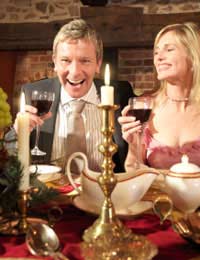 Christmas is a special time of the year that comes with a lot of strong emotions, but it can be quite stressful, too. Spending hours in the kitchen cooking up an elaborate meal, going out to find the best Christmas tree and then decorating it in a way that's different from last year, making the rounds of family and friends, going to office Christmas parties etc
There's also the cost: that tree costs money, as do the new decorations. Turkeys don't come for free either (unless you breed them yourself, but in that case you've spent all year paying for them) and then of course there are all the presents: family, friends, distant relatives, colleagues, clients. No wonder retailers worldwide love Christmas so much: it's the time of the year when people spend more money than at any other point during the year.
Singalong Song
There is however something you can do during the holiday season that requires very little effort (especially when you compare it with the amount of sheer joy you get in return) and totally no money whatsoever. We are of course talking about the old yet lively tradition of Christmas carolling: singing songs of praise and wonder together with people you love - or just like to harmonize with.
Carols Originate from a French Feast
Language lovers take note: the word "carol" stems from the French word "caroller", which refers to a circular sing and dance fest. At first (somewhere in the early dark ages) these carollers were a secular affair, but their appeal slowly broadened and so they came to be used in religious mystery plays, too. Like many other enjoyable things, carols were banned during the Reformation (not the most exciting time to be a Catholic), but they started resurfacing again in the 19th century.
Popular Carols
There are literally thousands of carols, though most of those have over time slipped into obscurity - or in fact never even made it out into "the mainstream". As you would expect, most of the carols still being sung today depict some aspect of the nativity story: be it Joseph and Mary's search for a room at the inn, the birth of the son of God in a stable in Bethlehem, the angel appearing to the shepherds, the coming of the Three Wise Men… There's a carol about all of these subjects.
Here's a list of some of the carols that have stood the test of time and which all (even the oldest) of our readers will have heard at some point each year:
Silent Night
Hark the Herald Angels Sing
The First Nowell
Once in Royal David's City
We Three Kings
God Rest Ye Merry Gentleman
Santa Baby
There's no escaping the influence of our modern times in any aspect of contemporary human life, and of course that goes for Christmas carols and songs, too. So now some of the popular songs that are sung come Christmas are about the jolly man with his big white beard and his lovely red-nosed reindeer called Rudolph, as well. Here are some of the favourites:
Santa Claus is Coming to Town
Frosty the Snowman
Rudolph the Red Nose Reindeer
Santa Baby
So Here it is Merry Christmas
I wish it could be Christmas Everyday
No matter what you sing, carolling is a wonderful tradition, capable of lighting up the darkest of winter days, and thawing the most frozen of hearts. So gather round your tree or go round your neighbourhood and sing: you'll be spreading the Christmas joy.
And... while you're gathered around that tree, have you ever wondered how the Christmas tree came about?
You might also like...