Great Cook's Gadgets for Christmas Gifts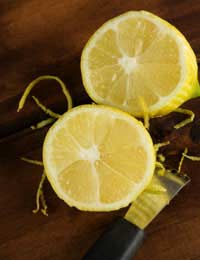 We all know someone who loves to cook – so what better idea then to give them a handy gadget this Christmas. To fire your imagination, Lovely Christmas brings you 8 of the best.
Lemon Zester
This is a super little stocking-filler and one of those kitchen gadgets you actually end up using! A small, hand-held tool, the zester is for peeling the zest off citrus fruits. It's not as fiddly as it sounds and it really works. Use for garnishes, adding flavour to dishes and to save time where zest is required as part of the core ingredients in a recipe.
Electric Salt and Pepper Grinder
Yes, it sounds daft but once you try electric grinders, it's not only great fun, but a time-saver too. Lazy maybe, but using an electric mill allows a free hand whilst seasoning sauces and stirring at the same time! Also, for older people or for those with arthritis in their hands, an electric mill can be a life-saver.
Mango Pitter
Mangos must be one of the messiest fruit to try to peel and slice. Thick, leathery skin, very slippery flesh and a large oval stone which seems not to separate from the rest of the fruit! If this is your experience, then a mango pitter could be just what you or your loved ones need! It's a metal ring with handles either side to hold it in place and a mango-shaped oval blade in the middle. Simply place over the fruit and press down and you have a perfectly cored mango.
Egg Glaze and Oil spray
When you want to glaze a pastry dish it is always a real hassle to have to crack an entire egg if you're not intending to use the rest of it. A great little item on the market now which solves this common cook's problem is sprayable glaze. No mess, no left-overs, you just use what you need at the time. Similarly, oil spray is also very useful when you want to brown a piece of meat for instance, but don't wish to use too much fat in the pan.
Silicone Baking Sheets
A recent innovation which has proven super-easy to use, is bakeware made out of silicon. Heat-resistant and flexible, they take the strain out of removing cakes and cookies from pans and have the added advantage of needing no greasing beforehand. They are also rust-proof, dishwasher, freezer and microwave safe and come in a range of bright colours.
Hand-held 'Blitzer'
An absolute 'must-have' for every kitchen – keen cook or not, has to be an electric hand-held mincing blade. There are numerous varieties on the market but most take the form of a long-handled tool with a circular blade at its base and a large plastic beaker to fit. It can be used for so many things, just a few being fabulous fruit smoothies, frothy milk drinks, blending sauces, 'blitzing' food for babies, mashing veg and so the list goes on; a real winner.
Sugar Bear
A sugar bear is a small, brown bear made of terracotta which keeps brown sugar from setting into a solid lump. Simple but ingenious.
Microplane Grater
The microplane grater is a small hand-held grater and zester which is a versatile little tool. Use it for grating small amounts of those fiddly things which get stuck or 'lost' in a larger free-standing grater. Items such as ginger, nutmeg, chocolate, parmesan and citrus fruits all really suit this implement. Perfect as a stocking-filler.
You might also like...